Kyle Dickard Biography
Kyle Dickard is an American deckhand who is a cast member of Below Deck Adventure which is set to air for its first season on Tuesday, November 1, 2022, at 9/8c on Bravo TV.
Kyle Dickard Below Deck Adventure
Dickard joins the Below Deck Adventure crew as they sail the Nordic sea on the motor yacht, Mercury. Texas is his native home and at the age of 19, he began pursuing his dreams of traveling the world over the years, he has been to places such as; Mexico, the Bahamas, Canada, and South Africa. He discovered yachting while he was in the Bahamas and since then he has been working on the deck which is a natural fit for him.
In addition, Kyle has worked for more than 5 years on sean, and during his time, he has earned lots of skills and experience. His Instagram reveals he is a party animal who loves to travel. Furthermore, whenever he is not out at sea, he enjoys traveling internationally and playing golf. Other cast members on Below Deck Adventure include; Faye Clarke, Kerry Titheradge, Jessica Condy, Kasie Faddah, Oriana Schneps, Lewis Lupton, Michael Gilman, and Nathan Morley.
Kyle Dickard Below Deck Adventure Spoiler
In the Below Deck Adventure trailer, Kyle seems to get in trouble when he gets into a disagreement with another crew member. Not long ago, Bravo released a teaser for the new spin-off, and Kyle seems to start some drama aboard the yacht. He is at a point of confrontation with Captain Kerry Titheradge letting him know that other crew members had complained about his behavior. After the serious talk with the captain, fans of the show are puzzled about whether Dickard will get fired before charter season is over however, they hope to get to know him before judgment is passed over his behavior during the season.
In addition, Kyle appears to get into a boatmance with Chief Stewardess Faye Clarke, and in one scene in the trailer, fans get to see Faye jumping on what appears to be Kyle and passionately kissing him. Furthermore, in another scene, Kyle embraces Faye from behind the above deck while in uniform which is quite not formal. The boatmance between Kyle and Faye is different from most previous ones as there is a major age gap between the two as Faye is 11 years older than him. However, Faye seems to be in a relationship with another guy at the moment.
Kyle Dickard Salary
Dickard earns a salary of about  $47,000-$120,000.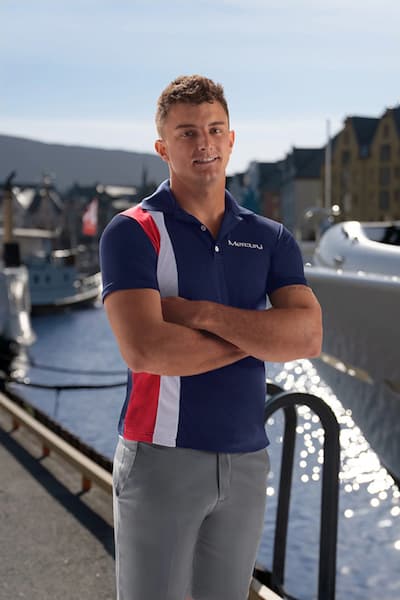 Kyle Dickard Net Worth
Dickard has an estimated net worth of about $1 Million – $ 2 Million which he has earned through his career as a deckhand.
Kyle Dickard Age
Dickard was born on January 18, 1998, in Texas United States. He is 25 years old as of 2023, and he celebrates his birthday on the 18th of January every year.
Kyle Dickard Height and Weight
Dickard stands at a height of 5 feet 7 inches tall. However, information about his weight will be updated when available.
Kyle Dickard Family
Dickard likes to keep his personal life private hence he has neither disclosed the names of his parent nor those of his siblings. However, this information will be updated when available.
Kyle Dickard Girlfriend
Dickard is currently single and he has not disclosed information about his previous relationships. However, Kyle was involved in a boatmance with Chief Stewardess Faye Clarke, and the two kissed on a number of occasions on Below Deck Adventure.