Jessica Condy Biography
Jessica Condy is a South African-born American-based nutritionist, yoga trainer, marketing manager, and chef. She is also a cast member of the Below Deck franchise, Below Deck Adventure which is set to air for its first season on Tuesday, November 1, 2022, at 9/8c on Bravo TV.
Jessica Condy Education
From 2005 to 2008, Condy studied at the Univesity of South Africa/ Universiteit van Suid-Afrika where Condy earned a Bachelor of commerce in marketing management, marketing, management, finance, and economics. She later studied at Ballymaloe Cookery School in the United Kingdom where she earned a Professional Chef Certification. In addition, Jessica also studied at the Institute of Transformational Nutrition where she became a Transformational Nutrition Coach. Furthermore, Condy also earned a certificate in health coaching and integrative nutrition from the Institute for Integrative Nutrition.
Jessica Condy Career
Condy is originally from Cape Town, South Africa, but she is currently based in Santa Monica, California, United States. Her love for cooking began just at the age of 12 she has never looked back ever since. Chef Jess Condy has quite the resume. After studying finance and marketing at college, she worked in the corporate world for a few months before she called it quits. Not long after, she traveled to the South of France where she first worked on a motor yacht while serving as a stewardess.
In addition, Jessica also relocated to Switzerland where she was a "chalet girl" and her job was to cook for well-off skiers. Her yachting career began in France where she served as a stew and while she was there, she also founded her very own bespoke catering company that provided meals for high-end clients such as motor yachts. Furthermore, Chef Jess is a master when it comes down to Asian-Fusion and Mediterranean cuisines. Jessica is not only a five-star culinary master but also owns a lifestyle business known as Wild Wanderlust Wellness.
Condy serves as the host of a podcast, Finding the Recipe to You, where she has interviewed women who are highly successful in life and wellness. In addition to her women's lifestyle company and podcast, she is working on writing a book entitled The Chef's Galley: Diary of a Gourmet Goddess. Her cookbook incorporates healthy recipes and positive affirmations.
Jessica Condy Below Deck Adventure
On this first season of the Below Deck franchise, Below Deck Adventure, Jessica joins the show as a chef, and in her Bravo TV bio, she is portrayed as hardworking, enthusiastic, Confident, and passionate about food. She has worked everywhere in her career as a chef apart from the cold water that she will encounter on Below Deck Adventure. In addition, Condy will bring her skills as a certified nutrition coach and Mediterranean and Asian-Fusion cuisine to the demanding charter guests aboard the Mercury yacht. Other cast members on Below Deck Adventure include; Faye Clarke, Kerry Titheradge, Kasie Faddah, Oriana Schneps, Lewis Lupton, Kyle Dickard, Michael Gilman, and Nathan Morley.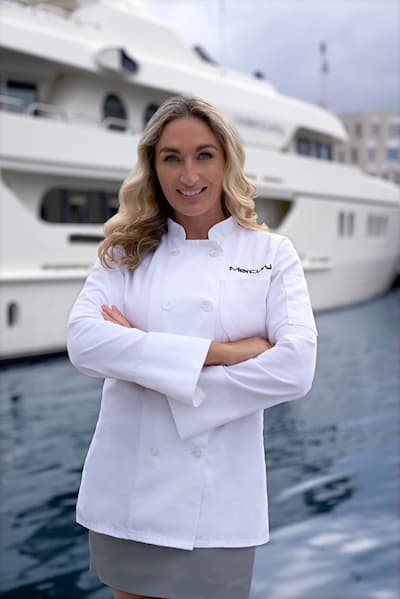 Jessica Condy Below Deck Adventure Spoiler
Despite the fact that she has a strong hospitality background on both sea and land, she has an extensive experience in the Mediterranean. However, in The Below Deck Adventure trailer, we get a glips of chef Jessica struggling to adapt to the lack of provisions on the mega yacht Mercury in Alesund, Norway. As a result of her struggle, she has a number of run-ins with the interior team as she is a perfectionist, however, her Instagram shows a whole other side to the Below Deck Adventure chef that is based on positivity and spirituality. Furthermore, she is waiting to make a splash against the backdrop of Norway and she finds a way to handle the demands of the guests who are in awe of her work.
Jessica Condy Salary
Condy earns a salary of about $47,000-$120,000.
Jessica Condy Net Worth
Condy has an estimated net worth of about $1 Million – $ 2Million which she has earned through her career as a chef.
Jessica Condy Age
Condy likes to keep her personal life private hence she has not disclosed her age. However, information about her age will be updated when available.
Jessica Condy Height and Weight
Condy stands at a height of 5 feet 5 inches tall. However, information about her weight will be updated when available.
Jessica Condy Family
Condy likes to keep her personal life private hence she has neither disclosed the names of her parent nor those of her siblings. However, this information will be updated when available.
Jessica Condy Boyfriend
Condy is currently single and she has not disclosed information about her previous relationships. However, this information will be updated when available.