Faye Clarke Biography
Faye Clarke is an England-born makeup artist, entrepreneur, and stewardess who is a cast member of the first season of Below Deck Adventure that is set to air for its first season on Tuesday, November 1, 2022, at 9/8c on Bravo.
Faye Clarke Career
Clarke hails from London, England and she was brought up in Southeast London which is a highly competitive surrounding thus she is a winner at heart. At a young age, she learned to horseback ride, scuba dive, and fence as her family is from Cambridge, Massachusetts. Throughout her 20s, she traveled on family vacations and even had the opportunity to meet President Obama. She is at an advantage on Below Deck Adventure as she has equestrian skills in horseback riding which is one of the charter guest activities. In addition, when Clarke was 21 years old, she decided to leave her parent's home and travel the world for more than 10 years.
Furthermore, she is a woman of many skills thus she made a career transition out of the corporate world when she ventured into Italy where she joined the yachting industry. Throughout the Mediterranean, Faye worked on superyachts and did not stop working even at the peak of the COVID-19 pandemic. In addition, she also worked on yachts that were based in Fort Lauderdale, Florida. While she was in Britain, she opened up her very own food truck business known as The Salt Beef Shack which cooks; curry pots, soups, salt beef bagels, and pastries. Clarke also has pet dogs however, one of them passed away while she was working on another yacht.
Faye Clarke Below Deck Adventure
On this first season of the Below Deck franchises, Below Deck Adventure, Clarke is Chief Stew and she will be faced with the challenge of getting her interior team to work together. She puts pressure on herself to give the best that she can while also making sure that she earns respect from her crew. She can not wait for the Below Deck Adventure fans to see what she was up to a year ago while filming.
In addition Chief Stewardess, Faye Clarke is set with the task to fill in the big shoes coming after Kate Chastain, Daisy Kelliher, and Hannah Ferrier. Without a doubt, it will be a challenge for her to plan activities in the harsh, cold climate off the coast of Norway and in the fjords.Other cast members on Below Deck Adventure include; Kasie Faddah, Kerry Titheradge, Jessica Condy, Oriana Schneps, Lewis Lupton, Kyle Dickard, Michael Gilman, and Nathan Morley.
Faye Clarke Below Deck Adventure Spoiler
Clarke went ahead to share some of the behind-the-scenes fun of Below Deck Adventure ahead of the premiere date on her Instagram page where she shared a video of her with the Below Deck Adventure production team. Not long after, she also used social media to share another video that showed her walking on the yacht and taking a moment to appreciate her stunning Norway surroundings. Not long ago, she shared footage on her TikTok account that gave a glimpse of Below Deck Adventure featuring her in a red bikini as she jumped off the yacht into the water.
In addition, Faye also disclosed that she has a boatman on Below Deck Adventure, and she shared a kiss in a cabin with a crewmate who appears to be Deckhand Kyle Dickard. If at all they actually have a boatmance their age gap is at least 11 years, however, she has a boyfriend who made if the official with her as revealed on her Instagram account. Furthermore, the show's trailer hinds that Clarke might struggle to gain the respect of her fellow Below Deck Adventure cast mates at first and also somewhat clash with Chef Jess Condy because the chef is a perfectionist. On her TikTok page, she posts funny videos goofing around and Below Deck Adventure behind-the-scenes footage.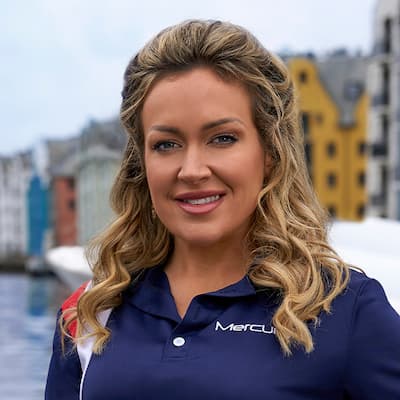 Faye Clarke Salary
Clarke earns an annual salary of about $ 80,000-$150,000.
Faye Clarke Net Worth
Clarke has a net worth of about $ 1 million – $ 2 Million which she has earned through her career as a stewardess.
Faye Clarke Age
Clarke was born on March 22, 1985, in London, England. She is 38 years old as of 2023, and she celebrates her birthday on the 22nd of March every year.
Faye Clarke Height and Weight
Clarke stands at a height of 5 feet 5 inches tall. However, information about her weight will be updated when available.
Faye Clarke Family
Clarke's family is from Cambridge, Massachusetts, and while growing up, she went on family vacations and on trips, she had the opportunity to meet former president Barack Obama. However, she has neither disclosed the names of her parents nor those of her siblings as she likes to keep her personal life private.
Faye Clarke Boyfriend
Clarke is in a relationship with Jack Peache who she disclosed on Instagram that they are official. However, her Facebook account states that she is still single. She also has a boatmance as she shared a kiss in a cabin with a crewmate who appears to be Deckhand Kyle Dickard. If at all they actually have a boatmance their age gap is at least 11 years,