Kasie Faddah Biography
Kasie Faddah is an American stewardess who is currently a cast member of the Below Deck franchise, Below Deck Adventure which is set to air for its first season on Tuesday, November 1, 2022, at 9/8c on Bravo TV.
Kasie Faddah Career
Seattle, Washington is her native home and when she was 10 years old, her family relocated to Costa Rica. She was brought up in a Mormon Church, however, she later left the religion and as of the moment, she is a world traveler who has worked on many superyachts over the years. Faddah is currently residing in the jungles of Costa Rica and the nature of her new home speaks volumes about her love for exploring as she is an adrenaline junkie. In addition, she worked in motor yachts in Norway in the summer of 2021, inclusive of the superyacht Stealth.
Kasie may have felt a connection to Norway as her father is from Scandinavia. On her Instagram account, she shows lots of her travels in locales like Thailand, Germany, and Hollywood. Her parents Kais and Kim's decision to relocate was shared on Costa Ballena Living, which is a Costa Rican newspaper. Furthermore, Faddah also enjoys aerial arts, beach volleyball, and the flying trapeze.
Kasie Faddah Below Deck Adventure
Faddah Bravo TV biography describes her as a true adventurer and adrenaline junkie. After she left the Mormon church, she made it her mission to live her life defying the norm and making yachting the perfect career choice for her. Together with her fellow stew Oriana, they had previously worked together and it happens that they did not click and did not end up well for them. In the 1st season of Below Deck Adventure, the crew of the motor yacht Mercury is in line as they cruise through the dangerously narrow yet breathtaking fjords. Other cast members on Below Deck Adventure include; Faye Clarke, Kerry Titheradge, Jessica Condy, Oriana Schneps, Lewis Lupton, Kyle Dickard, Michael Gilman, and Nathan Morley.
Kasie Faddah Below Deck Adventure Spoiler
The Below Deck Adventure trailer shows Kasie having a good time aboard the superyacht Mercury in Norway, however, she seems to struggle to get along with everyone in her department. She is set with the task to play mediator between Stew Orian Schneps and Chief Stew Faye Clarke when they have a conflict on the job. In addition, in the trailer we see Kasie and Deckhand Nathan Morley getting close and becoming good friends and doing yoga poses together, it may be resumed that the two may have a romance.
Furthermore, she had previously worked with fellow stew Oriana and it appears that things did not go so well. To fuel the fire between the two, they will be reportedly competing for the title of second stew this season. The Below Deck Adventure interior crew are kept on their toes by the cold waters as they try their best to entertain the charter guests.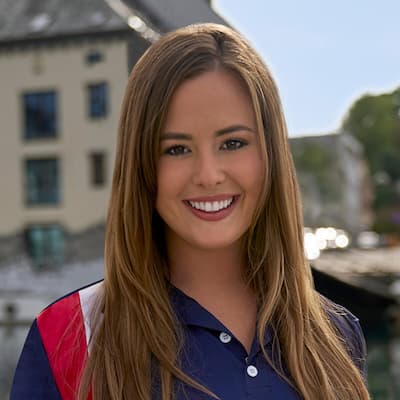 Kasie Faddah Salary
Faddah earns a salary of about $47,000 – $80,000.
Kasie Faddah Net Worth
Faddah has an estimated net worth of about $500,000 – $ 800,000 Million which she has earned through her career as a stewardess.
Kasie Faddah Age
Faddah was born on August 26, 1996, in Seattle, Washington State, United States. She is 26 years old as of 2022, and she celebrates her birthday on the 26th of August every year.
Kasie Faddah Height and Weight
Faddah stands at a height of 5 feet 4 inches tall. However, information about her weight will be updated when available.
Kasie Faddah Family
Faddah's father, Kim was born in Finland however, he has resided all over the United States. Her mother Kais, and her father resided in Seattle for over 21 years before they relocated to Costa Rica. One of her parents is a chiropractor, while the other is a Yoga teacher. In addition, she has a brother known as Kraig.
Kasie Faddah Boyfriend
Faddah is currently single and she has not disclosed information about her previous relationships. However, Deckhand Nathan Morley and Kasie get close and becoming good friends which some people may interpret as a roma
Kasie Faddah Costa Rica House
On Faddah's Instagram, she reveals that she bought a new home in Costa Rica that's under construction.