Leon Harris Biography
Leon Harris is an American anchor working for NBC4 as the co-anchor of News 4 at 4 alongside Pat Lawson-Muse and a reporter for News 4 at 11. He joined the NBC4 team on April 21, 2017, after previously working for WJLA.
Leon Harris Education
Harris attended Buchtel High School where he graduated with a diploma in 1979. He then earned a National Merit Scholarship to Ohio University where he graduated cum laude with a major in communications in 1983. In 1999, Ohio University gave him an honorary Doctorate.
Leon Harris CNN
Harris began his journalism career at CNN's world headquarters in Atlanta in the early 1980s. He started off as an unpaid intern while he was completing his degree. After graduating from Ohio University, he began as an entry-level video journalist at CNN and after some time, he moved to serve as an assistant director of the satellite department as an operator and coordinator. Later in 1991, he was promoted to serve as an anchor at the station.
In addition, while he served as an anchor at CNN, he received many awards including a number of Emmys for his coverage of; the Oklahoma City bombing, the 2000 presidential election, and the September 11th attacks. He also received two National Cable Ace Awards for Best Anchor. Before he left CNN, the last position he held was serving as the co-anchor of CNN Live Today with Daryn Kagan.
Leon Harris WJLA-TV
Later on, Harris relocated to Washington, D.C. where he joined the ABC affiliate WJLA-TV in July 2003. While he was at WJLA, he served as the weekday evening anchor at 5 pm and 11 pm. In addition, he won over a dozen of Local Emmys for his anchoring and reporting inclusive of two Best Local News Anchors. Leon received recognition for his coverage of Hurricane Katrina and his reporting from the jungles of El Salvador on illegal immigration. Furthermore, on September 2, 2016, his request for contract renewal with WJLA was declined and his tenure at the station ended in October of that year.
Leon Harris Salary
Harris earns a salary of about $47,000-$120,000.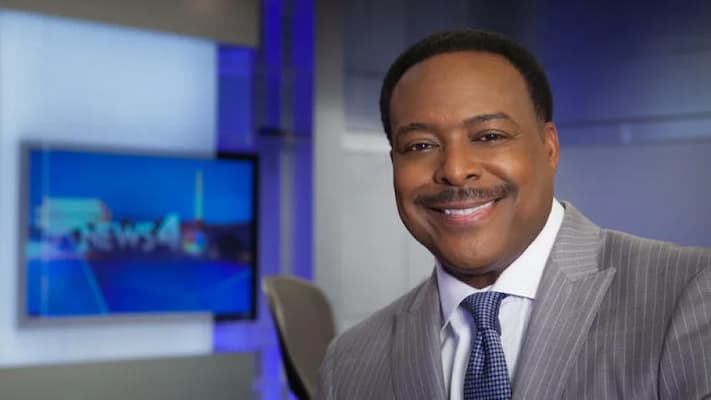 Leon Harris Net Worth
Harris has an estimated net worth of about $1 Million – $7 Million which he has earned through his career as an anchor.
Leon Harris Age
Harris was born on April 20, 1961, in Akron, Ohio, United States. He is 61 years old as of 2022, and he celebrates his birthday on the 20th of April every year.
Leon Harris Height and Weight
Harris stands at a height of 5 feet 8 inches tall. Howevere, information about his weight will be updated when available.
Leon Harris Family
Harris' father is known as Leon Harris Sr while his mother is known as Lorrene Harris. He was brought up alongside his three brothers; Jerry, Marcus, and J.J., who still lives in Akron; and a sister, Kimberly, who resides in Houston.
Leon Harris Wife and Children
Harris is married to Dawn Lomax Harris, who is a nurse at a local hospital. Dawn's family is also from Akron and the two met at Ohio University. Together they have a son, Darren who graduated from Bucknell University and resides in Seattle, WA, and a daughter Lauren, who is a graduate of Temple University and is an early childhood educator who lives in Atlanta, Georgia. Leon resides in Potomac, Maryland together with his wife.
Leon Harris Illness
In August 2013, Harris felt a "kick" in the stomach and he was rushed to the hospital by his wife who found him writhing in pain on the floor of their house. He was admitted to Johns Hopkins Hospital in Baltimore where he was diagnosed with necrotizing pancreatitis, which is an extreme complication of acute pancreatitis. For his pancreas to heal, he wasn't allowed to have anything in his mouth for 17 days thus he relied on feeding tubes for nourishment and a tube down his windpipe to breathe. He recovered and is currently in good health condition.
Leon Harris Controversial
Harris was involved in an accident in 2013, in Montgomery County, Maryland for which he was charged with driving under the influence. He received probation before judgment and served six months probation, which ended in September 2014. For over a month, he was off air following investigations into the accident he caused, and later in March NBC reinstated him. In June 2022, a Montgomery County, Maryland, district court judge sentenced Leon to one year of jail with all but 10 days suspended. In addition, he was also sentenced to three years of supervised probation with an ignition interlock device installed on his vehicle.
Leon Harris Social Media Platform
Harris is very active on his Twitter and Facebook pages. He has 7K followers on Twitter and 10K followers on Facebook.
Twitter