Tony Dokoupil Biography
Tony Dokoupil is an American anchor working for CBS as a morning co-anchor of CBS Mornings which airs on weekdays from 7 am to 9 am. He joined the CBS team in August 2016, after previously working for MSNBC.
Tony Dokoupil Education
Dokoupil and his parents relocated to Maryland when he was 6 years old and attended Severna Park High School. Later in 1999, he joined The George Washington University School of Business where he graduated with first-class honors in Marketing/Communications in 2003. Tony later studied at Columbia University where he earned a master's in American studies.
Tony Dokoupil Career
Dokoupil works for CBS, as the co-host of CBS Mornings and anchor of "The Uplift" which is a weekly show that spotlights good news stories that uplift and inspire on CBS News. He began serving as the co-host of CBS Morning in 2019, after previously serving as a correspondent and contributor to CBS Sunday Morning at the station. Dokoupil's reporting has appeared across all the CBS News broadcasts and platforms.
While serving as a co-host of CBS Mornings, he has dealt with many high-profile, on-the-ground, and anchoring assignments. Tony has broadcasted from the site of critical news events around the world for CBS including; at the Poland-Ukraine border reporting on the refugee crisis; from a number of battleground states during the 2020 presidential election as a part of his "At America's Crossroads" series; in Uvalde, Texas, after the mass shooting at Robb Elementary; from Capitol Hill after the January 6, 2021 assault on the Capitol; at the Kennedy Space Center for coverage of the 50th anniversary of the Apollo 11 mission, amid Hurricanes Laura and Dorian; and inside The Empire State Building, previewing the revamped observation deck on the 102nd floor.
In addition, Dokoupil has been on the frontline in covering important issues affecting Americans. He led the first coverage on vaping, inclusive of an exclusive broadcast interview with Juul CEO Kevin Burns and the first television interview with the co-CEOs of Puff Bar.
Furthermore, he led an investigation into the trading and investing app Robinhood and the death of teenager Austin Kearns. He also had an exclusive interview with Kearns' parents. Dokoupil was the anchor of the original series "The Price You Pay," which shed light on why costs are surging for many common products or services. He also reported on how past housing discrimination is still affecting American families to date. Ever since he joined the CBS News team in 2016, he has had interviews with a wide variety of newsmakers, entertainers, and major artists. A number of the people he has interviewed include; first lady Hillary Clinton, music superstars Dolly Parton and Linda Ronstadt, and comedy legend Steve Martin.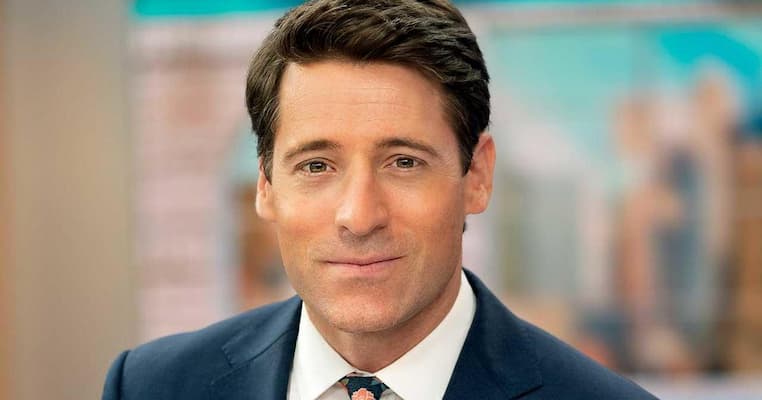 Tony has also covered; the struggles of public school teachers, a successful rehab program for drug and alcohol-addicted airline pilots, and features on the scourge of suicide. In addition, while he served as a correspondent for CBS News, he wrote about; the second amendment, marijuana legalization, and digital privacy. He has also worked on the CBS Weekend News and the CBS News Streaming Network as a substitute anchor.
Tony Dokoupil NBC News
Prior to joining CBS News, he worked at NBC News where he was a correspondent for MSNBC for a period of three years. While working at NBC News, he was the lead reporter on a run of big national stories, such as the Flint water crisis and the Paris climate agreement. Dokoupil was also involved in the coverage of the 2016 presidential primaries. In addition, he also worked at Newsweek and the Daily Beast where he served as a senior writer from 2007 to 2013. For his reporting, he secured gigs on ABC's "20/20", NBC's "Today," and NPR's "Fresh Air with Terry Gross."
He is also an author and he wrote the critically acclaimed book known as The Last Pirate: A Father, His Son and the Golden Age of Marijuana which was published in 2014. The memoir documented his father's exploits smuggling marijuana during the 1970s and '80s.
Tony Dokoupil Salary
Dokoupil earns a salary of about $47,000-$120,000.
Tony Dokoupil Net Worth
Dokoupil has an estimated net worth of about $1 Million – $7 Million which he has earned through his career as an anchor.
Tony Dokoupil Age
Dokoupil was born on December 24, 1980, in Connecticut, United States. He is 42 years old as of 2022, and he celebrates his birthday on the 24th of December every year.
Tony Dokoupil Height and Weight
Dokoupil stands at a height of 5 feet 8 inches tall. However, information about his weight will be updated when available.
Tony Dokoupil Family
Dokoupil's father, Anthony was a marijuana dealer however while growing up Tony was told that his father was in real estate. Later on in life, Tony wrote a book known as The Last Pirate: A Father, His Son and the Golden Age of Marijuana which was published in 2014. The memoir documented his father's exploits smuggling marijuana during the 1970s and '80s. His mother was known as Ann and she worked as a teacher. However, he has not disclosed information about his siblings.
Tony Dokoupil Wife and Children
Dokoupil is married to Katy Tur who is a journalist working at MSNBC. They tied the knot in October 2017 and together they have been blessed with two children; Teddy and Eloise Judy Bear Dokoupil. Tony also has two children from his first marriage. He resides in New Yok together with his family.
Tony Dokoupil Social Media Platform
Dokoupil is very active on his Twitter, and Instagram pages. He has 61.1k followers on Twitter and 58.8k followers on Instagram.
Twitter