Terrell Brown Biography
Terrell Brown is an American Emmy award-winning anchor who is currently working at ABC7 Chicago. At the station, he serves as the Eyewitness morning newscasts from 4:30 to 7:00 AM as well as the 11 AM weekday newscasts at the #1 television station in Chicago. In addition, brown joined ABC 7 Eyewitness News as a general assignment reporter and contributing anchor in April 2014.
Terrell Brown Career
Brown has broadcasted long coverage of the 2016 Chicago Cubs World Series Championship win. He has also anchored live from natural disasters, telling the stories of people in Coal City and Fairdale, Illinois, after tornadoes devastated their hometowns, during his time on ABC7. He has been natural to be tapped for many of ABC 7's programming efforts.
In addition, Brown fills in as co-host of Chicago's #1 daytime talk show, Windy City LIVE. He has hosted ABC 7's Pride Parade broadcast, the Columbus Day Parade, and the hour-long, nationally syndicated special, The Magnificent Mile Lights Festival. Furthermore, he hosted two events for the City of Chicago (DCASE), the 2019 Chicago Gospel Music Festival and the 2018 Chicago SummerDance Celebration, as well as the Boys and Girls Clubs of America Midwest Youth of the Year" Celebration, sponsored by Disney.
Moreover Brown has been a regularly featured reporter on the Bud Billiken Parade, the largest African-American parade, and second-largest parade in the United States. He is a featured host in Chicago's highest-rated local program each year, ABC 7's New Year's Eve special, Countdown Chicago. He has also created a variety of live series for our morning newscast, including "Chicago Uncovered", where viewers are given an all-access pass to Chicago landmarks and buildings not open to the public.
Before Brown joined ABC 7 Eyewitness News, he was an Anchor/Correspondent at CBS News where he anchored Up to the Minute, the CBS Morning News, and served as a fill-in anchor for the weekend editions of CBS Evening News. As a correspondent, he's covered some of the nation's biggest stories including the Boston Marathon bombing and the BP Gulf oil spill. additionally Brown has reported from the White House lawn and U.S. Capitol during healthcare reform and looming government shutdowns. He was at CBS News from 2009 through 2014.
Brown has been an anchor/reporter for WWBT-TV, the NBC station in Richmond, Virginia from 2005 to 2009. Furthermore, he has won a national Emmy for his work on 48 HOURS detailing the manhunt for the Boston Marathon bombers, Brown was honored for his accomplishments in broadcast journalism with a National Press Club Award.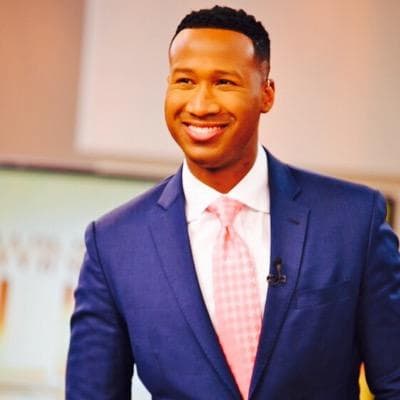 He was named one of Virginia Commonwealth University's Top 10 graduates of the Last Decade. He is a member of the National Association of Black Journalists and a graduate of Virginia Commonwealth University and Matoaca High School, still, he was honored with the Chicago Defenders Men of Excellence Award.
Additionally, Brown has worked as an emcee for Chicago Police and Firefighter graduation ceremonies and served with dozens of local organizations to provide assistance and relief to at-risk youth on Chicago's South Side. Following months after he joined ABC 7, Brown showed nerves of steel when he volunteered to ride with the U.S. Navy Blue Angels at the Air & Water Show.
Terrell Brown Salary
Brown earns a salary of about $47,000-$120,000.
Terrell Brown Net Worth
Brown has an estimated net worth of about $1 Million – $7 Million which he has earned throughout his career as an anchor
Terrell Brown Age
Brown is 35 years old as of 2022. He was born on May 8, 1987, in Chesterfield, Virginia, United States of America. He celebrates his birthday on the 8th of May every year.
Terrell Brown Height and Weight
Brown stands at a height of 6 feet 4 inches(1.9m) tall, however, he has not disclosed his weight. This information will be updated when available.
Terrell Brown Family
Brown likes to keep his personal life private hence he has neither disclosed the names of his parent nor those of his siblings. However, this information will be updated when available.
Terrell Brown Wife and Children
Brown has not yet disclosed his marital status in public but he has been rumored to be dating Ashley Nicole. Brown keeps posting pictures of her on his Instagram when they are out at events
Terrell Brown Social Media Platform
Brown is very active on his Twitter, Instagram, and Facebook pages and he has 7k followers on Twitter, 14k followers on Instagram, and 77K followers on Facebook.
Twitter