Ryan Blaney Biography
Ryan Blaney is an American professional stock car racing driver who is currently a full-time competitor in the Monster Energy NASCAR Cup Series where he drives the No. 12 Ford Fusion for Team Penske. Part-time, he drives the No. 22 Ford Mustang for Team Penske.
Ryan Blaney NASCAR
Ryan Blaney enters the 2022 NASCAR Cup Series (NCS) season looking to build on the momentum generated by the most successful year of his NCS career. Racing the No. 12 Team Penske Ford Mustang, Blaney produced a single-season career-high three wins in 2021 as he advanced to the Round of 8 in the NASCAR Playoffs for the second time in his career. An early-season victory at Atlanta Motor Speedway locked Blaney and the No. 12 Ford team into the 2021 Playoffs and they continued to produce with wins at Michigan International Speedway and Daytona International Speedway to close out the regular season. In addition to the race victories, Blaney and the team delivered consistently-strong results throughout the season as the third-generation racer posted a career-best 20 top-10 finishes.
This season, Blaney will team up with a new crew chief who is no stranger to Team Penske. Jonathan Hassler takes the reigns of the No. 12 Ford Mustang team in 2022 as he begins his 15th season working with the organization. After a successful run as an NCS race engineer with Team Penske, Hassler served as crew chief last season for the No. 21 Ford Mustang with the team's technical alliance partner – Wood Brothers Racing. Blaney first joined Team Penske as a talented but raw 18-year-old racer, competing in select NASCAR Xfinity Series (NXS) races for the team in 2012. He earned his first victory for Team Penske with an NXS win at Kentucky in 2013 and over the last eight seasons, Blaney has produced a combined 13 victories and seven poles for the team across Xfinity Series and Cup Series competition.
In 2015, Blaney firmly established himself as one of NASCAR's rising stars on the strength of 13 NXS starts in the No. 22 Discount Tire Ford Mustang for Team Penske. He scored wins at Iowa and Kentucky and posted nine top-five finishes to help the No. 22 team win its third consecutive NXS Owner's title for Team Penske. Blaney also earned an opportunity to compete in the NASCAR Cup Series in 2015 as he made 16 NCS starts for Wood Brothers Racing. Blaney competed in his first full NASCAR Cup Series season in 2016, as he recorded three top-five and nine top-10 finishes for Wood Brothers Racing to finish 20th in the final series point standings. He also posted four top-five and six top-10 results across eight NXS starts for Team Penske.
In 2017, Blaney delivered NASCAR's longest-running team its best season since 1995. He captured his first career NCS victory and the 99th all-time win for Wood Brothers Racing over their nearly 70 years of NASCAR competition with a memorable triumph at Pocono Raceway. Ryan and the No. 21 Ford team raced their way into the Playoffs with a strong regular season and advanced to the Round of 8 before eventually finishing ninth in the driver standings. Blaney also competed in 13 NXS races for Team Penske in 2017 and he earned two wins to help secure the team's fourth series Owner's championship.
For the first time in eight years, Team Penske expanded to a three-car NCS program in 2018 as Blaney raced alongside series championship drivers Brad Keselowski and Joey Logano. Blaney returned to Victory Lane as the No. 12 Ford team won the inaugural Bank of America ROVAL 400 at Charlotte Motor Speedway. The win allowed Blaney to advance to the Round of 12 in the NASCAR Playoffs and he eventually finished 10th in the final championship standings.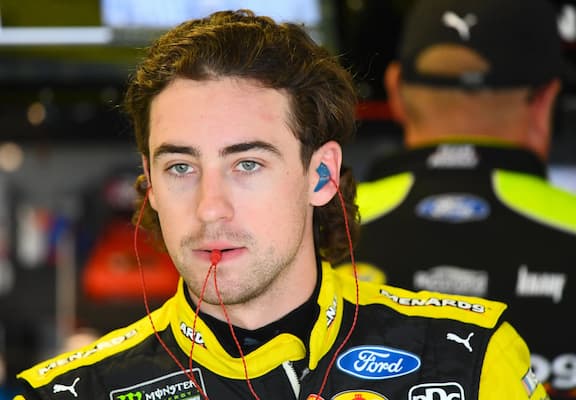 In 2019, Blaney earned a victory in NASCAR's premier series for the third consecutive season and he also earned an NCS Playoffs berth for the third straight season. He produced a thrilling victory at Talladega Superspeedway in October that propelled him into the Round of 8 in the NASCAR Playoffs. As the Cup Series begins the Next Gen era in 2022, Blaney and the No. 12 Menards/Discount Tire/BODYARMOR/DEX Imaging/Advance Auto Parts/WURTH Ford Mustang team expect to once again contend for the NCS championship.
The 2020 NCS season featured another productive year and the No. 12 Ford Mustang team. Highlighted by another win at Talladega, Blaney raced his way into the Playoffs and finished ninth in the series standings for his fourth consecutive top-10 championship season. The performance helped pave the way for the breakout season posted by Blaney and the No. 12 Ford team in 2021. Blaney has a wide variety of interests outside of the racetrack. His hobbies include anything related to Star Wars, basketball, Ohio State football, music, and spending time with his dog Sturgill. Blaney has also become an avid golfer, playing regularly with Team Penske INDYCAR driver Scott McLaughlin.
Ryan Blaney Salary
According to CDM Sports, Blaney earns an annual salary of $1,620,000.
Ryan Blaney Net Worth
Blaney has a net worth of $5 Million which he has earned through his career as a professional stock car racing driver.
Ryan Blaney Age
Blaney was born on December 31, 1993, in Hartford Township, Ohio, United States. He is 29 years old as of 2022, and he celebrates his birthday on the 31st of December every year.
Ryan Blaney Height and Weight
Blaney stands at a height of 5 feet 7 inches tall and weighs 150 lb (68 kg).
Ryan Blaney Parents
Blaney is the only son of Dave Blaney who is a NASCAR driver and the middle child of Lisa Blaney. He is also the grandson of sprint car legend Lou Blaney.
Ryan Blaney Sisters
Blaney has two sisters known as Emma Blaney who is married to Cale Conley who is a race driver and Erin Blaney.
Ryan Blaney Wife/ Girlfriend
Blaney is currently in a relationship with Gianna Tulio who is a professional model who also works as a hooter.
Ryan Blaney Car
Blaney drives the No. 12 Team Penske Ford Mustang.
Ryan Blaney New House
Blaney owns a house located in Mt Ulla, North Carolina 28125 that covers 3,643 sqft. He bought the house for $802,000, and it has four bedrooms and three bathrooms with an open floor plan. The bedrooms are placed on both floors, having one bedroom with a bathroom attached on the first floor, and additional two bedrooms on the upper floor, surrounded by a spacious loft area. Lastly, the house has a garage that can fit up to three cars.
Kim Coon Ryan Blaney
Ryan co-hosts the Glass Case of Emotion podcast alongside Kim Coon that aired on NBC.
Ryan Blaney Window Net
Blaney's victory in Sunday's All-Star Race at Texas Motor Speedway came under controversial circumstances after he stated that NASCAR deemed his window net safe before the overtime attempt.
Ryan Blaney Tattoo
Blaney has two tattoos that pay tribute to Lou Blaney, who won more than 600 races, primarily in sprint cars and modifieds. He has a tattoo in his chest of his grandfather's No. 10 and an image of his grandfather's 1970 sprint car around his ribs. He also has a tattoo on his leg that features Darth Vader who is also from Star Wars.
Ryan Blaney Shirt/ Ryan Blaney Merchandise
To purchase Ryan's merch click here.
Ryan Blaney Wins / Ryan Blaney Achievements
Blaney recorded many Cup Series wins for the first time in his career with a team-best three victories in 2021
He qualified for the NCS Playoffs in each of the last five consecutive seasons (2017-2021)
Earned second-consecutive win at Talladega Superspeedway in April 2020 to become the first driver since Jeff Gordon (2007) to post back-to-back victories at the Alabama superspeedway.
He won the 2018 Bank of America ROVAL 400 at Charlotte Motor Speedway – the inaugural Cup Series race hosted on the track's road course configuration.
Ryan posted his first NCS win in 2017 at Pocono Raceway – the 99th all-time victory for Wood Brothers Racing.
Generated four wins in NASCAR Truck Series competition in consecutive seasons from 2012-2015.
He was named NASCAR Truck Series Most Popular Driver in 2014
Secured seven career NXS victories between 2012-2019 – all while running a limited schedule.
He contributed to four of Team Penske's NXS Owner's championships since 2013
Ryan Blaney Social Media Platform
Blaney is very active on her Twitter, Instagram, and Facebook pages. He has 317k followers on Twitter 233k followers on Instagram and 134k followers on Facebook.