Norah O'Donnell Biography
Norah O'Donnell is an American multiple Emmy Award-winning anchor working for CBS as the host and managing editor of CBS Evening News and anchor of CBS News Election Specials. She joined CBS News in 2011, after previously working for MSNBC as the Chief White House correspondent.
Norah O'Donnell Education
When O'Donnell's family moved to San Antonio, she joined Douglas MacArthur High School where she graduated proudly in 1991. Later on, Norah joined Georgetown University where she earned a Bachelor of Arts degree in philosophy in 1995, and later a Master of Arts degree in liberal studies in 2003.
Norah O'Donnell Career
O'Donnell was born into a military family, and brought up in San Antonio, Texas; Landstuhl, Germany; Seoul, South Korea and Washington, D.C. She started her career at Roll Call, which is a Capitol Hill newspaper where she served as a print reporter. While working at Roll Call, she covered the impeachment of President Bill Clinton and traveled the country covering congressional elections. In addition, she is a firm believer in empowering women and is on the board of directors of the International Women's Media Foundation. Furthermore, she created and led a series of original reports called "Women and the Pandemic," on CBS Evening News. The reports offered an in-depth look at COVID-19's long-lasting and disproportionate effect on women.
O'Donnell works for CBS News as host and managing editor of CBS Evening News a position she took up in 2019, and anchor of CBS News Election Specials inclusive of debate, primary, and election night. She is also a 60 Minutes contributing correspondent. She has had over twenty years of experience in covering the biggest stories in the world while conducting impactful, newsmaking interviews that have earned her multiple Emmys. In addition, Norah has covered six presidential elections and traveled around the world to interview a number of the world's most important leaders.
Norah O'Donnell CBS
Norah was named the anchor and managing editor of CBS Evening News in 2019. She has been broadcasting from Washington, D.C, thus making her the only network evening news anchor based in the nation's capital. Prior to taking up the evening newscast at CBS, O'Donnell served as the co-host of CBS This Morning and as a contributor to 60 Minutes. She joined CBS This Morning show in July 2012, as a co-host. Before that, she covered the administration of President Barack Obama as the CBS News chief White House correspondent.
Norah has reported and anchored from the country's largest migrant processing facility on the southern border, reported from the scenes of Hurricanes Dorian and Harvey, reporter George Floyd's memorial services in Minneapolis and Texas; mass shootings in; Texas, Annapolis, El Paso, Maryland, and Las Vegas, and the Boston Marathon bombing. Throughout the 2020 presidential election, the transition of presidential power, the new administration, and beyond, O'Donnell led CBS News' political coverage.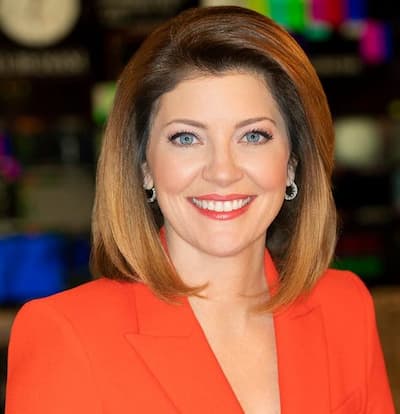 Over the years, O'Donnell has; moderated CBS News' Democratic debate in Charleston, South Carolina, anchored CBS News' top-rated coverage of the impeachment proceedings against then-president Donald Trump, led CBS News' 2020 Election Day coverage until a winner was named, and more. She did extensive reports on the U.S. military inclusive of launching, Profiles in Service, which is a "CBS Evening News" series. The Profiles in Service series highlights stories of members of the military, veterans, and Americans from coast to coast who are giving back to their communities.
Norah O'Donnell Interviews
While serving as the anchor of CBS Evening News, she has had interviews with newsmakers in Washington and beyond inclusive of; President Joe Biden's first interview since taking office, an exclusive 60 Minutes interview with Dr. Rick Bright, an exclusive sit-down with Vice President Mike Pence on the killing of Iranian military commander Qasem Soleimani; an exclusive interview with a former staffer for New York's Gov, a live interview House Majority Leader Kevin McCarthy during the insurrection of the U.S. Capitol on Jan. 6, 2021; the former top federal scientist following his whistleblower complaint about the Trump administration's response to the coronavirus, and more.
Furthermore, while serving as anchor of CBS Evening News, O'Donnell interviewed Amazon founder Jeff Bezos, covered the historic first summit between President Joe Biden and Russia's President Vladimir Putin in Geneva, Switzerland; reported live from the Kennedy Space Center for the 40th anniversary of the Apollo 11 launch, and anchored live from Surfside, Florida, hours after a deadly beachfront condo building collapse.
While working at CBS News, she has had sit-downs with a number of the world's most influential leaders. In September 2019, Norah did a week-long report for 60 MINUTES in Saudi Arabia while interviewing Crown Prince Mohammed bin Salman for his first interview following the murder of Jamal Khashoggi. In addition, she happens to be the only Western television journalist to have had two interviews with the Saudi Crown Prince. Norah has also interviewed; the Duke of Sussex Prince Harry; the Dalai Lama; South Korean President Moon Jae-in; and Nobel Peace Prize winner Malala Yousafzai. Furthermore, she covered the historic election of Pope Francis in Vatican City, and his first Apostolic Voyage to the United States.
Norah O'Donnell Awards
O'Donnell did an exclusive, year-and-a-half-long investigation into sexual assault in the U.S. military, for which she was awarded the Scripps Howard Award for Excellence in Broadcast National/International Coverage in 2021 and a prestigious 2022 duPont-Columbia Award. She also received an Emmy award for reporting on sexual assaults at the U.S. Air Force Academy in 2018. In addition, for her reporting on sexual assault at the Air Force Academy, she received recognition from the prestigious White House Correspondents' Association.
Throughout the COVID-19 pandemic, O'Donnell led dogged reporting and offered compelling, newsmaking stories and for this, she received two Headliner Awards. One of the Headliner Awards was awarded to her for her exclusive interview with Dr. Rick Bright and the other one for her 60 MINUTES report on the front lines of automotive industry factories for Ford and GM as they pivot from making cars to COVID-19 PPE. O'Donnell and the "CBS Evening News" received the Best Newscast Edward R. Murrow Award for ground and exclusive coverage from the U.S.-Mexico border. The award was also presented for her interview with Homeland Security Secretary Kevin McAleenan and for gaining first access inside migrant detention centers.
Furthermore, for Norah's contributions to CBS News' coverage of George Floyd, she was awarded the prestigious Sigma Delta Chi Award. For the CBS coverage of the 2012 Newtown massacre, she was part of the CBS News team that was awarded an Alfred I. DuPont Award. Over the years, she has earned a number of Gracie Awards including being named Best National News On-Air Talent for the years 2018 and 2016, and Outstanding News Anchor in 2020. In 2019, she was the New York Women in Communications Matrix Award honoree.
In addition, Norah was awarded the Edward R. Murrow Award for Best Newscast of 2017. In 2014, she was named by the New York State Broadcasters Association as the Broadcaster of the Year. For her exclusive 60 MINUTES interview with then-Vice President Joe Biden and his wife, Dr. Jill Biden, on his decision not to run for president in 2016, she was awarded the Merriman Smith Memorial Award.
Norah O'Donnell NBC News
Before O'Donnell joined CBS News, she worked for NBC News for over ten years. While working at NBC News, she covered; Congress, the Pentagon, and the White House. On September. 11, 2001, she reported from the Pentagon and was awarded a second Sigma Delta Chi Award for Breaking News Coverage for a Dateline NBC story titled "D.C. In Crisis." In addition, she traveled extensively with then-Secretary of Defense Donald Rumsfeld, inclusive of his first trip to Afghanistan following the terrorist attacks.
Since 2000, Norah has covered each and every presidential election. In 2004, she was the NBC News White House correspondent, and during this time, she covered the campaigns of then-President George W. Bush and Senator John Kerry. preceding her coverage of the White House, she served as an NBC News congressional correspondent, reporting on the lead-up to the Iraq War.
Norah O'Donnell Salary
O'Donnell signed a deal in April 2022, of a yearly salary of $3.8 million which is a decrease from $8 million during her previous contract as reported by The Post.
Norah O'Donnell Net Worth
O'Donnell has a net worth of $22 Million which she earned through her career as an anchor and host.
Norah O'Donnell Age
O'Donnell was born Norah Morahan O'Donnell on January 23, 1974, in Washington, D.C., United States. She is 49 years old as of 2023, and she celebrates her birthday on the 23rd of January every year.
Norah O'Donnell Height and Weight
O'Donnell stands at a height of 5 feet 7 inches tall and weighs 60 kg. She has lost weight as a result of her exercise and she has a fitness routine
Norah O'Donnell Family
O'Donnell is the daughter of Francis Lawrence O'Donnell who is a medical doctor and US Army officer, and Noreen Bernadette (O'Kane). Her parents are of Irish descent, with roots in Donegal, Belfast, and Derry.  Three of her grandparents were immigrants, and her maternal grandfather resided in the U.S. illegally for 16 years. Norah has two siblings Francis O'Donnell and Mary O'Donnell.
Norah O'Donnell Husband and Children
O'Donnell is married to Geoff Tracy who is a restaurateur in Washington, D.C. The two met in the cafeteria line at New South during her first week of school. Geoff stated that it was love at first sight later in 2001, they tied the knot.
Norah O'Donnell Children
O'Donnell and her husband, Geoff Tracy have been blessed with three children who they named Riley Norah Tracy, Grace Tracy, and Henry Tracy. She resides in Washington D.C. together with her husband and children.
Norah O'Donnell House
O'Donnell bought a four-level, seven-bedroom house in New York in 2010. She also owns a house in Washington D.C. together with her husband.
is Norah O'Donnell a Democrat
O'Donnell has not declared on whether or not she is a Democrat.
Norah O'Donnell Cancer
O'Donnell received a call from her dermatologist while she was in a department store. Her dermatologist informed her that she was diagnosed with melanoma and that she needed to undergo surgery to remove it as soon as possible. The surgery was successful and since then, she has been consistent in getting checked for skin cancer every 4 to 6 months. In addition, she uses her social media platforms to enlighten and spread awareness of melanoma as she encourages people to go for checkups.
Norah O'Donnell Social Media Platform
O'Donnell is very active on her Twitter, Instagram, and Facebook pages. She has 269.3k followers on Twitter 154k followers on Instagram and 185.8k followers on Facebook.
Twitter