Nikocado Avocado Biography
Nikocado Avocado (Nicholas Perry) is Ukrainian-born American YouTuber who is well known for his eating show known as mukbang. Nikocado has significant notoriety from a number of his viral videos and as of October 2022, he has accumulated over 8 Million subscribers and approximately 1.6 billion total views across six YouTube channels.
Nikocado Avocado Education
Avocado attended elementary and high school in Pennsylvania and after earning his diploma at Lower Dauphin High School, he joined The Pennsylvania Governor's School for the Arts on a full scholarship. He earned a certificate of excellence and from the year 2009 to 2011, he studied at the Chamber Music in Grantham. In addition, he also studied at The Catholic University of America on a full tuition scholarship where he pursued a Bachelor of Music degree in Violin Performance and graduated in 2012.
Nikocado Avocado Career
Avocado was born in Ukraine, however, he was brought up in Philadelphia, and in addition to being a YouTuber, he is also a classically trained violinist. While in college, he majored in performance and he stated that he received callbacks for The Glee Project. Prior to becoming a YouTube, he worked in New York City as a freelance violinist, and at the age of 21, he dreamt of playing in the Broadway pit orchestra. Despite the fact that he believed that he was experienced and talented, it was not easy for him to make a living in the city as completion was too high.
Furthermore, he signed up for YouTube on May 27, 2014, and when he began, he started off with a vegan or vegetarian menu as his personal diet. Later on September 2, 2016, he uploaded a video in which he talked about his deteriorating mental health and he believed that is was significantly caused by veganism along with the retirement of Henya Mania's YouTube career. Not long after, he shifted to an open diet that later consisted of absurd amounts of unhealthy foods that received positive feedback.
For three years, he grew significantly primarily through his Fire Noodle Challenge videos and also from his fast-food video mukbangs. He gained thousands of subscribers each day and hundreds of thousands of views per month, however, from early 2019 into 2020, he has had a downward trend as a result of many controversies. Furthermore, in December 2021, he began making mukbang videos with his friend, the Hungry Fat Chick, with a total of 2 videos released on his main and the More Nikocado channel respectively.
Nikocado Avocado Salary
Avocado earns a monthly salary of $ 900, 000 from Patreon subscribers.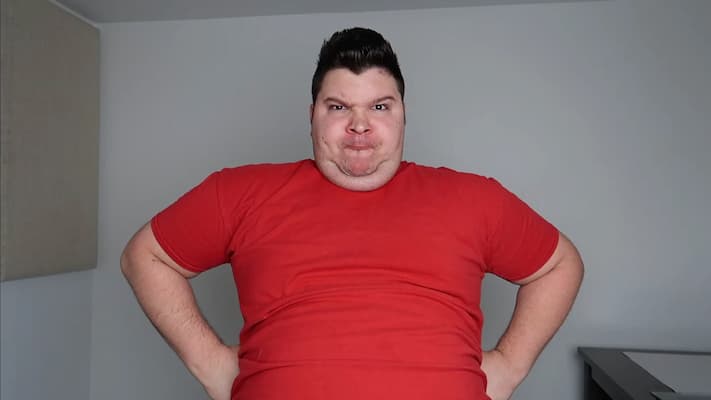 Nikocado Avocado Net Worth
Avocado has a net worth of $7 million which he has accumulated through selling merch, vlogging, Patreon, and making cameo performances.
Nikocado Avocado Age
Avocado was born on May 19, 1992, in Kherson, Ukraine. He is 30 years old as of 2022, and he celebrates his birthday on the 19th of May every year.
Nikocado Avocado Height and Weight
Avocado stands at a height of 5 feet 7 inches tall and weighs 350 pounds (159 kilograms) as of 2022.
Nikocado Avocado Family
Avocado was adopted by an American family and he was brought up in Harrisburg, Pennsylvania, the United States alongside his younger sister. However, he has not disclosed information about his biological parents.
Nikocado Avocado Husband
Avocado is openly gay and he was married to Orlin Home. The couple met in New York City in 2013, through a Facebook group for vegan men. Later on April 10, 2017, they tied the knot and their wedding was filmed at a Chic-Fil-A. Together they resided in Colombia for three years before they later decided to relocate to Florida where they own a $2.3 million penthouse apartment.
Nikocado Avocado Social Media Platform
Avocado is very active on his Twitter, YouTube, TikTok, and Facebook pages. He has 151k followers on Twitter, 3M followers on YouTube, 1M followers on TikTok, and 84k followers on Facebook.