Nathan Soan Mingomezulu Biography
Nathan Soan Mingomezulu is a 24-year-old model, business management student in Cape Town, South Africa, and reality television personality who is best known for being a cast member on the third season of the reality television show; Too Hot To Handle. 
Nathan is currently a resident of Cape Town, South Africa where he studies business management. He began working as a model when he turned 19 years old, and while working as a model, he has worked for huge brands inclusive of GQ Magazine, boohooMAN, and Zalando. In addition, after he signed with Next Models he had to split his time between being in the United Kingdom and in the United States of America.
He is part of the third season of Too Hot To Handle and in and he described himself as an international playboy and serial dater who has traveled all over the world to sleep with women. Furthermore, he stated during the first episode of the show that he was going for women with; big eyes as their eyes have to speak volumes according to him, she has to be tall, and have great teeth.
During his leisure time, he enjoys playing football, playing soccer, listening to Stormzy, and playing some touch rugby on the beachfromt.
Nathan Soan Mingomezulu Age
Soan was born Nathan Soan Mngomezulu on January 27, and is currently 24 years old.
Nathan Soan Mingomezulu Height and Weight
Soan stands at a height of 6 feet 1 inch tall. However, he has not revealed his weight hence this information will be updated when available.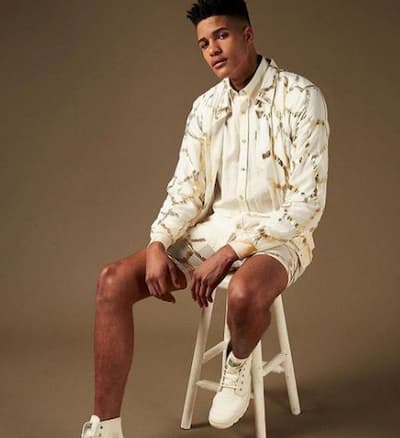 Nathan Soan Mingomezulu Family
Soan's father is British while his mother is known as Zulu. He also has a brother who is known as Sacha Feinberg Mngomezulu who is a professional rugby player signed with BHL WP Stormers.
Nathan Soan Mingomezulu Girlfriend
Soan he has dated Spanish, Russian, Swedish, American and German ladieds hence they are more likely to click better with him. However, he is currently single.
Nathan Soan Mingomezulu and Holly Scarfone
Soan joined the 'Too Hot to Handle' retreat with the goal of having as much fun as he could. He has managed to achieve his goal as he wasted no time in seducing his co-star Holly. By the end of the second night, the two had managed to indulge in five kisses, costing the group a total amount of $30,000. In spite of the fact that their actions were costing their group an enormous amount of money, they did not mind and continued to be intimate with each other. By the end of the season, all their co-stars were pretty much annoyed with their shenanigans.
In spite of everything, things may have worked out well between Nathan and Holly before the show's premiered as Holly took to her Instagram to share a TikTok clip of Nathan and her together.
View this post on Instagram
Even though neither of them discussed their relationship status, it might be safe to assume that Holly and Nathan are either together or have become really good friends, either way, Lana was right about their genuine connection.
Nathan Soan Net Worth
Soan has an estimated net worth of about $500,000 Million – $1 Million which he has earned through his career as a model.
Nathan Soan Salary
Soan earns a salary of about $25,000-$70,000.
Too Hot To Handle (season 3)
Too Hot To Handle is a British-American reality television dating game show which is 100% authentic. On the show, gorgeous singles meet and mingle on the shores of paradise. The show requires the cast who engage in meaningless flings and are unable to form long-lasting relationships to foster genuine connections between the participants while living on the same roof for four weeks. The casts have to follow a set of instructions given by their host Lana who is a cone-shaped virtual assistant and when rules are broken the $100,000 grand prize is reduced.
The third season of the show will premier on January 19, 2022, filmed in the Turks and Caicos Islands. Soan is a cast on the show among other nine casts who are;
Beaux Raymond  a 24-year-old Kent, England resident
Georgia Hassarati  a 26-year-old Brisbane, Australia resident
Harry Johnson a 29-year-old Middlesbrough, England resident
Holly Scarfone a 23-year-old Colorado, United States resident
Izzy Fairthorne a 22-year-old Manchester, England resident
Jaz Holloway a 25-year-old Virginia, United States resident
Patrick Mullen a 29-year-old Hawaii, United States resident
Stevan Ditter a 26 -year- old Los Angeles, California, United States resident
Truth a 23 -year-old Texas, United States resident
Nathan Soan Social Media Platform
Soan is very active on his Instagram, and Tiktok page and he has 29k followers on Instagram, and 759 followers on Facebook.
 Instagram
Twitter