Kyle Kraska Biography
Kyle Kraska is an American six-time Emmy award-winning sports anchor who is currently working at KTTV. He serves as the chief sports anchor and can be seen on weeknights at 5, 6, and 10 p.m and on Sunday nights on Sports Wrap.
He has won six Emmy awards and three Golden Mic Awards while serving as a sports anchor. He has covered sports throughout Southern California for more than twenty-six years and not long ago he covered sports for CBS in San Diego.
Massachusetts is his native home and he attended Syracuse University where he graduated proudly with a Bachelor of Science in broadcast journalism. While serving as an anchor, he worked in Texas, Florida, and New York before he headed west to California.
In addition, there is no sport or an event he has not covered including the Olympics, NBA Finals, World Series, and Super Bowls. He previously worked at KCBS where he served as an anchor and also hosted the nationally syndicated news show, Hard Copy.
Kyle Kraska Salary
Kraska earns a salary of about $47,000-$120,000.
Kyle Kraska Net Worth
Kraska has an estimated net worth of about $1 Million – $7 Million which he has earned through his career as a sports anchor.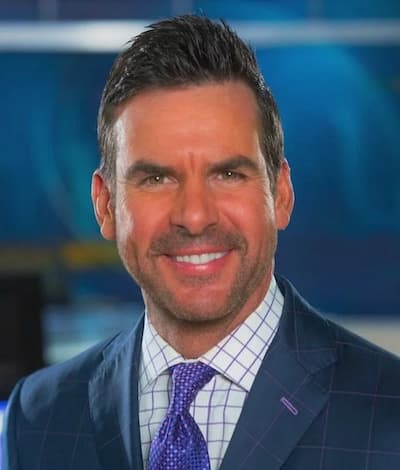 Kyle Kraska Age
Kraska is 56 years old as of 2023. He was born on December 7, 1966, in Boston, United States of America. He celebrates his birthday on the 7th of December every year.
Kyle Kraska Height and Weight
Kraska stands at a height of 5 feet 8 inches tall. However, information about his weight will be updated when available.
Kyle Kraska Family
Kraska's father was Walter Kraska who was an Air Force SSGT who served in the Korean War between 1951-1955. Unfortunately, his cousin, Chris Ciafardini, passed on in the 9/11 terrorist attacks.
Kyle Kraska Wife and Children
Kraska is currently in a relationship with Samineh Esfahani. More information about his relationship with Samineh Esfahani will be updated when available.
Kyle Kraska Shooting
On Feb. 10, 2015, Kraska was shot by Mike Montana a 55-year-old man who was a house painter. Kraska had hired him for a job at his house and they had agreed a $3,000 price for the work, of which Kraska would pay $800 upfront and the rest when the job had been completed. However, Montana quit the job before he had completed it and demanded full payment.
He appeared at Kraska's house on Feb. 10, 2015, while he was leaving the house and while Kraska was in his car he came and pulled out a gun and shot him at least four times. The police put up a search warrant for him describing him to be armed and dangerous.
Mike was arrested and presented to the court where he was convicted on the same day of premeditated attempted murder and other charges.
Kyle Kraska Social Media Platform
Kraska is very active on his Twitter, Instagram, and Facebook pages and he has 4k followers on Twitter 1k followers on Instagram and 93k followers on Facebook.
Twitter