Kimmi Scott Biography
Kimmi Scott is an American actress, entrepreneur, and television personality. and currently one of their casts on OWN's reality show Love and Marriage.
She attended the University of Alabama where she received her undergraduate degree in nursing and graduated in 2004. She is also a nurse and an essential worker on the frontline during the COVID-19 pandemic. In addition, she owns a real estate venture with her husband. Furthermore, she enjoys cooking and owns a catering company named K& K Catering. She is also she is an active member of Delta Sigma Theta Sorority, inc.
Kimmi Scott Age | Kimmi Scott Birthday
Scott has not disclosed the date, month, or the year she was born as she likes to keep her personal life private. However, this information will be updated when available,
Kimmi Scott Height and Weight
Scott stands at a height of 5 feet 6 inches tall. However, she has not disclosed her weight as she likes to keep her personal life private.
Kimmi Scott Family
Scott has neither disclosed the names of her parents nor those of her siblings as she likes to keep her personal life private.
Kimmi Scott Husband
Scott got married to Maurice Scott on August 25, 2018, a relationship that remained very private for a very long time. Despite the fact that they even aired a show together, they still acted as an unmarried couple. Her husband Maurice is a television star and CEO of Credit 1 USA. She is the stepmother to Maurice's three children who are known as D'Shalya, Tatyana, and Maurice Jnr.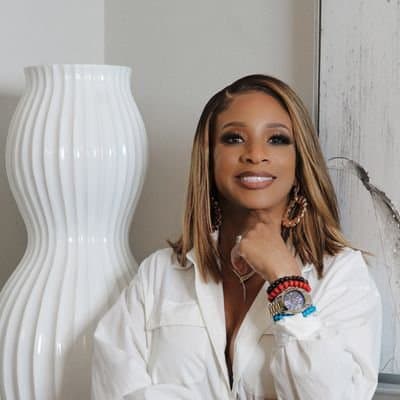 Kimmi Scott Son Age
Kimmie has an older son known as Jaylin who is from her previous relationship. Jaylin is away from home to study at Troy University. However, she has not disclosed the age of her son Jaylin.
Kimmi Scott Net Worth and Salary
Scott earns an estimated salary of about $ 500,000 and has a net worth of around $ 20 million.
Love and Marriage: Huntsville
Love & Marriage: Huntsville is a reality show produced by Kingdom Reign Entertainment for ITV America. The show centers around the lives of three high-powered African-American couples who are long are longtime friends and avid socialites with strong personalities and strong points of view. They come come together to revitalize the thriving city of Huntsville, Alabama through their joint real estate venture, The Comeback Group. The couples each face the realities of dealing with love and marriage while at the same time striving to e successful.   
This years season three couple casts of  Love and Marriage: Huntsville include; Martell Holt and Melody Holt, Marsau Scott and LaTisha Scott, Kimmi Scott and Maurice Scott. 
Kimmi Scott Sorority
Scott is a proud member of Delta Sigma Theta Sorority, Inc which is an African American sorority.
Kimmi Scott Social Media Platform
Scott is very active on her Twitter, Instagram, and Facebook pages. She has 7 followers on Twitter, 7 followers on Instagram, and 7 followers on Facebook.
Kimmi Scott Instagram
View this post on Instagram