Ketanji Brown Jackson Biography
Ketanji Brown Jackson is an American attorney and jurist who has served as a federal judge on the United States Court of Appeals for the District of Columbia Circuit since 2021. In addition, she is currently, a nominee for the Supreme Court, awaiting the Senate's confirmation.
Ketanji Brown Jackson Education
Brown attended Miami Palmetto Senior High School where she graduated proudly in 1988. During her senior year, she won a national oratory title at the National Catholic Forensic League Championships in New Orleans.
Later on, she joined Harvard University where she studied government in its Law School and graduated cum laude with a Juris Doctor degree in 1996. While she was in the University, she served as a supervising editor of the Harvard Law Review. In addition, in 1992, she received an A.B., magna cum laude, in Government from Harvard-Radcliffe College
Furthermore, when she graduated in 1992, she has written a senior thesis entitled The Hand of Oppression: Plea Bargaining Processes and the Coercion of Criminal Defendants.
Ketanji Brown Jackson Career
Ketanji started her legal career with three clerkships inclusive of one with the U.S. Supreme Court Associate Justice Stephen Breyer. From 2013 to 2021, she worked at the United States District Court for the District of Columbia where she served as a district judge.
In addition, she served as a vice-chair from 2014 to 2014 for the United States Sentencing Commission. She has also been a member of the Harvard Board of Overseers since 2016. In June 2021, she received her commission as a United States Circuit Judge.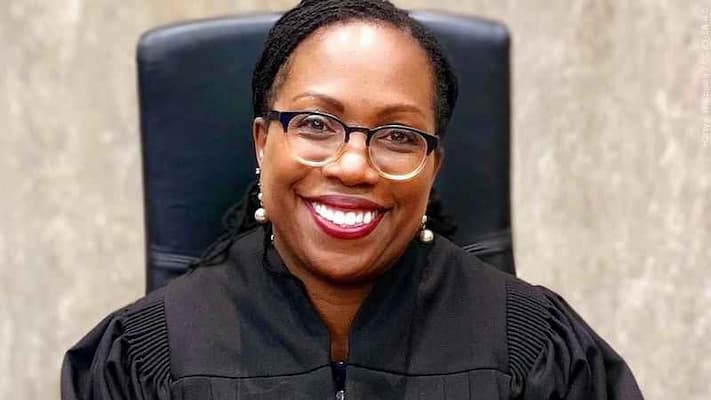 Before she began working on the Sentencing Commission, she served as an Of Counsel at Morrison & Foerster LLP, with a practice that focused on criminal and civil appellate litigation in both state and federal courts, as well as cases in the Supreme Court of the United States.
Furthermore, in the appeals division of the Office of the Federal Public Defender in the District of Columbia, she served as an Assistant Federal Public Defender. In addition, she has served as a law clerk to three federal judges: Judge Bruce M. Selya of the U.S. Court of Appeals for the First Circuit, d Judge Patti B. Saris of the U.S. District Court for the District of Massachusetts, and Associate Justice Stephen G. Breyer of the Supreme Court of the United States.
Ketanji Brown Jackson Salary
Brown earns an annual salary of $305,900 US Dollars.
Ketanji Brown Jackson Net Worth
Brown has accumulated a Net Worth of $23 Million US Dollars which she has earned through her career as a
Ketanji Brown Jackson Age
Brown is 52 years old as of 2022. She was born on September 14, 1970, in Washington, D.C, United States. She celebrates her birthday on the 14th of September every year.
Ketanji Brown Jackson Height and Weight
Brown stands at a height of 5 feet 6 inches tall. However, information about her weight will be updated when available.
Ketanji Brown Jackson Family
She is the niece of former officer Calvin Ross who served in law enforcement as Chief of the Miami Police Department for a period of forty years. Later on, he served as a later Secretary of Florida Department of Juvenile Justice appointed by then-Governor Lawton Chiles, and as Chief of Police for Florida A&M University before he retired in 2012.
Ketanji Brown Jackson Father
Brown was born to educators Johnny and Ellery Brown. Her parents are historically black colleges and university graduates. Her father is a former history teacher who attended the University of Miami School of Law as a full-time student with the family living in on-campus housing. In addition, her father Johnny Brown become a chief attorney for the Miami-Dade County Public School Board.
Ketanji Brown Jackson Mother
Her mother Ellery Brown served as the principal at New World School of the Arts, located within Miami Dade College from 1993 to 2007.
Ketanji Brown Jackson Brother
Furthermore, she has a brother known as Ketajh Brown who is a Howard University graduate and a former police officer who joined the United States Army after the September 11 attacks serving 2 tours of duty in the Iraq War.
Ketanji Brown Jackson Husband| Ketanji Brown Jackson Dr. Patrick G. Jackson
Brown is married to Dr. Patrick G. Jackson who is currently a general surgeon at MedStar Georgetown University Hospital and a professor at Georgetown. They met while studying at Harvard thirty years ago and in 1996, they tied the knot.
In addition, her husband Patrick attended Columbia University where he graduated from its medical school. Furthermore, while Ketanji was a nominee judge for the Supreme Court, her husband joined the supportive spouse club in Washington, D.C. During her confirmation hearings on Capitol Hill, Patrick was spotted sitting behind his wife, crying tears of joy.
Ketanji Brown Jackson Daughters
Together with her husband, they have been blessed with two daughters Leila and Talia who are 21 years and 17 years old respectively. While Leila was 11 years old, she wrote a letter to former President Barack Obama about nominating her mom to the Supreme Court. In addition, the girls attended their mom's Supreme Court confirmation hearing.
Ketanji Brown Jackson Paul Ryan
Ketanji and Paul Ryan are actually related in the sense that the brother to her husband William, is married to Dana Little Jackson who is the sister to Janna Ryan. Janna Ryan is married to Paul Ryan who is a former House speaker and longtime Republican Rep from 2015 to 2019.
In addition, after news that Ketanji was nominated, Paul tweeted on the 25th of February 2022, his congratulations to her.
Ketanji Brown Jackson Supreme Court
During Supreme Court judge Stephen Breyer's January 27, 2022 retirement announcement, President Joe Biden stated that he would select a nominee who would be someone of extraordinary qualifications, character, experience, and integrity.
Later on February 28, 2022President Joe Biden nominated Jackson as a justice on the Supreme Court of the United States to replace judge Stephen Breyer. Other shortlisted candidates for the position include; Leondra Kruger and J. Michelle Childs.
In addition, the American Bar Association rated Jackson unanimously well qualified and if she is confirmed, she would be the first Black woman to serve on the U.S. Supreme Court and the first former public defender to serve on the nation's highest court.
Ketanji Brown Jackson Cases | Ketanji Brown Jackson Rulings
She served as a federal public defender in Washington, D.C from 2005 to 2007. While she worked there, she handled cases before the U.S. Court of Appeals for the D.C. Circuit. In addition, a Washington Post review of cases Jackson handled during this time showed that she won uncommon victories against the government that shortened or erased lengthy prison terms.
Furthermore, she presided over two cases in April and June 2018, that challenged the Department of Health and Human Services decision to terminate grants for teen pregnancy prevention programs two years early. She ruled that the decision to terminate the grants before time, and without any explanation for the termination was arbitrary and capricious.
In November 2013, Wesley Hawkins who was a 19-year-old man was presented to her court for allegedly downloading and trading scores of images and movies of child sexual abuse, including several showing boys who were under age 13.
Wesley Hawkins pleaded guilty and she sentenced him to three months in prison followed by more than six years of supervised release. In addition, Republicans unloaded a broad arsenal of attacks stating that she impose lighter sentences than federal guidelines suggested.
Ketanji Brown Jackson Confirmation Hearing
Day One
The average time from nomination to final Senate vote has been about 68 days since 1975. Jackson has had three confirmation hearings so far. On her first day of Senate confirmation, the hearing began at 11:00 a.m. The  Chairman of the Senate Judiciary Committee Dick Durbin and ranking member Chuck Grassley (R-Iowa) provided opening statements followed by members of the Senate Judiciary Committee. Democrats and Republicans could agree that's her historic nomination come at a critical moment for the U.S. Supreme Court.
In addition, during her hearing, republican senators constantly raised alarm over what they described as attacks on the high court's legitimacy, while Democrats highlighted coming decisions on hot-button political topics, including access to abortion.
On the second day of her hearing, she gave a view into how she approached her job. While she faced GOP skepticism for not aligning herself with a specific judicial philosophy, Ketanji gave new details about the way she approaches her job and the method she uses for deciding a case. In addition, the Democrats gave her a lot of opportunities to push back on the GOP attacks, while still discussing the background that will make her a unique addition to the Supreme Court.
The third day of Ketanji's confirmation hearings and the second day of questioning were a day of intense grilling by GOP senators and a continuation of her explaining her approach as a judge. She also discussed abstract legal concepts that can be pivotal in controversial Supreme Court cases in her defense of a sentencing record that Republicans have claimed wasn't adequately harsh on certain crimes.
During the fourth day, of Ketanji Confirmation Hearing, Senate Democrats continue to project confidence that they will be able to confirm Ketanji Brown Jackson to the Supreme Court as confirmation hearings for President Biden's nominee are on their final day Thursday. In addition, no Democrats have publicly indicated whether they would vote against the nominee despite the fact that they have the Republicans have worked hard during this week to portray potentially politically damaging attacks during the confirmation hearings.
West Virginia Sen. Joe Manchin who is a moderate Democratic swing vote seemed not to be in shock by allegations from Republicans that Ketanji is soft on crime that Missouri Republican Sen. Josh Hawley raised in how Jackson was sentenced in a series of child pornography cases. In conclusion, the biggest and most concerning question as of the moment is whether the Republicans will vote for Jackson.
Abortion has been a dominant issue in the Supreme Court's current term. The court has had  5 to 4 votes in allowing a controversial Texas ban on most abortions to take effect while legal challenges continue. The law put a ban on abortion and almost six weeks later, it allows private individuals to enforce it. By the end of the term, the court will rule on a restrictive Mississippi law that would violate the precedents set by Roe v. Wade.
Jackson was pressured by Republican senators to detail her judicial philosophy and state the method of constitutional interpretation she favors. In her previous confirmation hearings, she stated that she does not have a judicial philosophy per se, apart from applying the same method of thorough analysis to every case, regardless of the parties as said in a written answer during her confirmation to the D.C.
She added that in each case that she has handled as a district judge, she has handled as a district judge she only put into consideration the parties in arguments. Her philosophy is a key qualification for the Supreme Court as stated by Senate Minority Leader Mitch McConnell.