Kelcey Carlson Biography
Kelcey Carlson is an American anchor and reporter working for FOX 9 as an evening anchor. She joined the FOX 9 news team in January 2014, after previously working for Capitol Broadcasting Company.
Kelcey Carlson Career
Lafayette, Indiana was where Carlson was born and brought up. She attended Indiana University where she majored in Journalism with a concentration in Political Science and earned a minor in French in 1996. After having graduated, Kelcey relocated to South Carolina where she secured her first job at CBS affiliate WBTW in Florence/Myrtle Beach. While at WBTW, Carlson served as a weekend producer and covered a number of big stories during her first two months at the station. She was able to cover Hurricanes Bertha and Fran, and the crash of flight TWA 800.
In addition, Kelcey secured a spot as a "one-man band" reporter/photographer and in her role, she shot and edited her own stories every day. Thereafter, she relocated to Kalamazoo, Michigan where she worked at WWMT-Ch. 3, and while she was at the station, she covered a number of big stories. Some of the stories she covered include; the execution of Timothy McVeigh, and the 2000 Presidential Election uncertainty in West Palm Beach, Florida. Furthermore, she did more investigative reporting while in Kalamazoo, and for her stories on the Sex Offender Registry, she earned numerous awards. Not long after she was named as the weekday morning anchor of the station.
The better part of Carlson's career was spent in Raleigh, North Carolina where she worked for WRAL-TV. Kelcey joined WRAL-TV as a reporter and she was promoted to being a weekend newscast anchor before later being the weekday morning show anchor. She covered a number of big hurricanes while she worked at WRAL-TV inclusive of Hurricane Isabel which devastated the southern Outer Banks. In addition, Kelcey was in charge of the coverage of the criminal case against presidential candidate John Edwards and covered the Duke Lacrosse case.
Furthermore, Kelcey lives close to Boylston Street as she had run in the e Boston Marathon in 2013 when the bombings occurred. For her reporting and work on John Edwards' criminal case, she earned Emmy nominations, and an Emmy was awarded to her for Best Weekend Newscast. For a decade and a half, Kelcey resided and worked in Raleigh and she values the experience she gained while at the station while covering Final Four wins, Federal Courts, and the Hurricane's Stanley Cup victory.
Later in the year 2014, she relocated to Minnesota where she joined FOX 9 as the main evening anchor. Carlson was tipped off about the death of the Prince and on the morning of his death, she was the first reporter to arrive at Paisley Park. Additionally, Kelcey provided live coverage of the explosion at Minnehaha Academy for FOX 9. While working at FOX 9, she covered; the Super Bowl in the Twin Cities and the Super Bowl in Houston. With assistance from contacts from back in Kalamazoo, Carlson broke the news of P.J. Fleck's hiring at the University of Minnesota.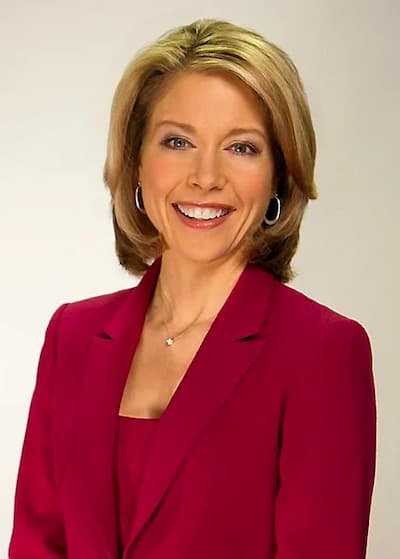 During her leisure time, she enjoys running, and to date, she has competed in 31 marathons. Those marathons include 7 Boston Marathons of which 3 of them she qualified under the men's timing standard. In addition, Kelcey has run Berlin, Chicago, and Grandma's Marathon. Over the years, she has served on the board for Girls on the Run in both Raleigh and Kalamazoo. As of the moment, she is on the board of The Positive Coaching Alliance in Minnesota.
Kelcey Carlson Salary
Carlson earns a salary of about $47,000-$120,000.
Kelcey Carlson Net Worth
Carlson has an estimated net worth of about $1 Million – $7 Million which she has earned through her career as an anchor and reporter.
Kelcey Carlson Age
Carlson was born on September 12, 1975, in Indiana, United States. She is 44 years old as of 2022 and celebrates her birthday on 12 September every year.
Kelcey Carlson Height and Weight
Carlson stands at a height of 5 feet 4 inches. Information concerning her weight has been disclosed but will be updated when available.
Kelcey Carlson Family
Carlson likes to keep her personal life private hence she has neither disclosed the names of her parent nor those of her siblings. However, this information will be updated when available.
Kelcey Carlson Husband and Children
Carlson is married to Dave for 20 years. Kelcey and Dave married in Lafayette, Indiana, on September 9, 2001. They married in a church where Kelcey's parents and grandparents married, the couple are parents to three kids Charlie, Kathryn, and Kellen. Carlson and her husband have produced a podcast for PCA called "My Sports Life for PCA MN" in which they have interviewed athletes like Matt Birk, Lou Nanne, and Corey Koskie concerning their path to success and overcoming challenges.
Kelcey Carlson Husband Cancer
Carlson husband Dave was ailing from Non-Hodgkins Lymphoma and he had undergone six chemotherapy sessions and is now in remission.
Kelcey Carlson Social Media Platform
Carlson is very active on her Twitter, Instagram, and Facebook pages. She has 9k followers on Twitter 964 followers on Instagram, and 9.9k followers on Facebook.