Jim Acosta Biography
Jim Acosta is an American anchor who is currently working at CNN. He serves as the Chief Domestic Correspondent and anchor of the Saturday from 3 to 6 pm newscast and on Sunday from 4 to 6 pm newscast on CNN. In addition, he joined the CNN news team in March 2007. 
Jim Acosta Career
Previously, he served as CNN's chief White House correspondent, where he covered the Trump administration and the Obama administration from the White House and around the world. In addition, on a number of occasions, he covers visits by heads of state, presidential press conferences, and issues impacting the Executive Branch of the federal government.
Furthermore, following the  Republican presidential candidate Donald Trump he reporter from the 2016 campaign trail. In addition to him being a national political correspondent throughout CNN's 'America's Choice 2012' election coverage, he also joined the White House beat. Additionally, he traveled with the GOP presidential candidate to key battleground states and to Poland, Israel, and the United Kingdom while covering the latest campaign developments.
Furthermore, he reported from Havana, Cuba, on the effects of the policy change and on the post-Cold War relationship between the United States and Cuba after the Obama administration lifted some restrictions on American travel to Cuba in 2009. Additionally, he also covered the campaigns of then Sen. Barack Obama, Sen. John McCain, and Sen. Hillary Clinton during the 2008 presidential election.
In addition, he has covered a number of breaking news stories while working at CNN such as; the Gulf Coast during the oil spill crisis and the tragedy at Virginia Tech. Acosta previously worked at CBS from February 2003, where he served as a news correspondent. Furthermore, while he worked at CBS, he made contributions to its Evening News prior to also covering stories such as the blackout of 2003 that impacted major cities in the Northeast U.S, the Iraq war from Baghdad, and the 2004 presidential campaign of then Sen. John Kerry, Hurricane Katrina.
Jim Acosta Early Career
Furthermore, he has also worked at WBIR-TV in Knoxville, Tenn., from 1995 to 1998 where he served as a reporter and as a substitute anchor, the CBS-owned station in Chicago from 2000 to 2001; a reporter for KTVT-TV, and at WBBM-TV where he served as a reporter and substitute anchor. In addition, he started his journalism career at WMAL-AM radio in Washington, he made the transition to television.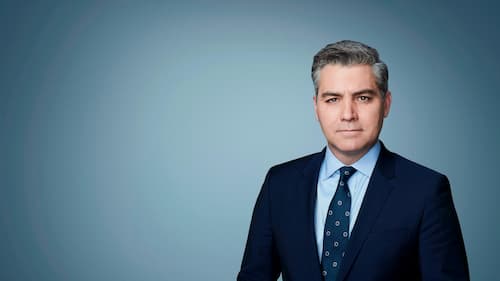 Jim attended James Madison University where he graduated cum laude with a bachelor's degree in mass communications and a minor in political science.
Awards and Achievements
Acosta was awarded The National Association of Hispanic Journalists 2017 Presidential Award.
He was among the CNN team that won an Emmy for their 2012 presidential campaign coverage.
In addition, he received the SJSU Journalism School 2018 William Randolph Hearst Foundation Award.
The New York Press Club awarded him with the annual "Truth to Power" award in 2019.
In June 2019, his book "The Enemy of the People: A Dangerous Time to Tell the Truth in America," was released and became a New York Times bestseller.
Jim Acosta Salary
Acosta earns a salary of about $47,000-$120,000.
Jim Acosta Net Worth
Acosta has an estimated net worth of about $1 Million – $7 Million which he has earned through his career as an anchor and Chief Domestic Correspondent.
Jim Acosta Age
Acosta was born on April 17, 1971, in Washington, D.C, United States. He is 52 years old as of 2023, and he celebrates his birthday on the 17th of April every year.
Jim Acosta Height and Weight
Acosta stands at a height of 5 feet 9 inches tall and weighs 67 kg.
Jim Acosta Family
Acosta has not disclosed the names of his parents. However, on June 21, 2020, he posted a photo wishing his father a happy birthday. He has a little sister who is known as Arlene. Jim also posted a photo of his mother on his Instagram post despite the fact that he has not disclosed the name of his mother.
Jim Acosta Wife and Children
Acosta is currently divorced. He was previously married to Sharon Mobley who he tied the knot in 1999. While he was with his wife they were blessed with two children inclusive of a daughter and a son, However, he has not disclosed the names of his children as he is private about his personal life. In addition, in 2017, he divorced his wife Sharon Mobley Stow.
Jim Acosta Social Media Platform
Acosta is very active on his Twitter, Instagram, and Facebook page and he has 2M followers on Twitter, 231k followers on Instagram and 68k followers on Facebook.
Twitter