Jesse Watters Biography
Jesse Watters is an American anchor and host working for FOX News Channel as the weeknight Primetime anchor from 7 pm to 8 pm. He is also the co-host of The Five which airs on weekday evenings from 5 pm to 6 pm.
Jesse Watter Career
Watters attended the William Penn Charter School through his junior year. He also attended Trinity College in Hartford, Connecticut where he earned a Bachelor of Arts degree in History in 2001.
Watters joined the FOX News Channel as a production assistant in 2002, and he made his on-camera debut as a correspondent for The O'Reilly Factor in 2003. While he served as a correspondent, he held signature man-on-the-street interviews on varying topics from pop culture to politics on a segment known as Watters' World.
Jesse was named the solo host of the Watters' World in January 2017. The Watters' World show was the number one show in the 8 PM/ET Saturday evening timeslot and it averaged almost 1.9 million viewers, which is the highest of any weekend program. In addition, during the program, Jesse conducted notable interviews with former President Donald Trump, the billionaire entrepreneur Barstool Sports' Dave Portnoy, Mark Cuban, and many more.
In April 2017, Watters was named as a co-host of The Five and he co-hosted alongside; Judge Jeanine Pirro, Greg Gutfeld, Harold Ford, Dana Perino, Geraldo Rivera, and Jessica Tarlov. Furthermore, he is widely known for his segment known as Mom Texts which showcases colorful messages that his liberal mother has fired off to him.
Watters debuted Fox News show, Outnumbered on June 11, 2014, and he often appeared on the show as a guest co-host. Later in April 2017, Watters served as the co-host of the series, The Five. HarperCollins announced the publication of How I Saved the World in April 2021, which is Watters's new book that was published on July 6. In addition, his book debuted at number one on The New York Times' nonfiction best-seller list.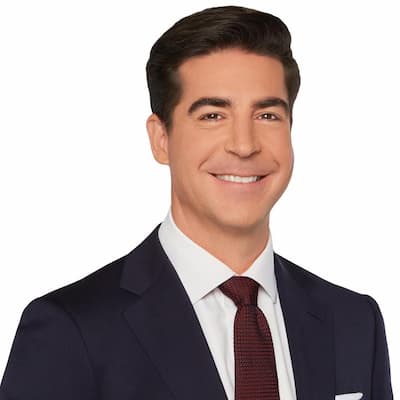 On January 10, 2022, it was announced that Jesse would become a permanent host of a new primetime show known as Jesse Watters Primetime which debuted on January 24, 2022. However, the Watters' World show came to a curtains call on January 15, 2022, and he continues to serve as the co-host of The Five. Furthermore, Jesse was announced by FOX News as the permanent host of the 8 pm newscast in June of 2023, thus replacing Tucker Carlson who was fired.
Jesse Watters Salary
Watters receives an annual salary of $16 Million as of 2023.
Jesse Watters Net Worth
Watters has a net worth of $100 Million which he has earned through his career as an anchor and host.
Jesse Watters Age
Watters was born on July 9, 1978, in Philadelphia, Pennsylvania, United States. He is 45 years old as of 2023, and he celebrates his birthday on the 9th of July every year.
Jesse Watters Height and Weight
Watters stands at a height of 6 feet I inch tall. However, information about his weight will be updated when available.
Jesse Watters Family
Watters' father is Stephen Hapgood Watters who is a teacher and his mother is Anne Purvis who is a child psychologist. His mother's father is known as Morton Bailey, Jr who is the publisher of Better Homes and Gardens magazine. His grandfather also published The Saturday Evening Post and his maternal great-grandfather was the politician Morton S. Bailey.
In addition, his paternal grandfather was known as Franklin Benjamin Watters and he was a cardiologist at the Veterans Administration Hospital in Newington, Connecticut. Jesse was named after his mother's great-grandfather who was known as Jesse Andrew Burnett who was an associate chief justice of the Kansas Supreme Court.
Jesse Watters Wife and Children
Watter's first wife was Noelle Inguagiato who he tied the knot in 2009. While he was married to Noelle, they were blessed with twin daughters; Ellie and Sophie. However, after Watters admitted to an affair with Emma DiGiovine who is a producer on his show, Noelle filed for divorce in 2018, and in March 2019, their divorce was finalized.
Jesse continued dating Emma DiGiovine and in August 2019 they got engaged and had their wedding in December of the same year. Together they have been blessed with a son, Jesse Bailey Watters, Jr who was born on April 1, 2021, weighing 7lbs 3oz, and a daughter Georgina Post Watters who was born in April 2023 while weighing 6lbs 3oz.
Jesse Watters Social Media Platform
Watters is very active on his Twitter, Instagram, and Facebook pages. He has 2.4M followers on Twitter 697k followers on Instagram, and 1.3M followers on Facebook.
 Twitter