Jerami Grant Biography
Jerami Grant is an American professional basketball player for the Portland Trail Blazers on the National Basketball Association (NBA). His a Power Forward and Small Forward for the Portland Trail Blazers. In addition, he played as a member of the 2020 U.S. Olympic team that won a gold medal in Tokyo on June 28, 2021.
Jerami Grant Education
Grant studied at DeMatha Catholic High School in Hyattsville, Maryland and during his senior years 2011-2012, he averaged 12.5 points in 23 games. He was also listed as the No. 11 power forward by ESPN.com and in 2012, as the No. 37 player in the nation. In addition, he joined Syracuse University in 2012, and while he was at Syracuse, he played in the Syracuse Orange men's basketball.
From 2013 to 2014, he averaged 12.1 points, 6.8 rebounds and 1.4 assists in 31.4 minutes per game. He also scored in double figures in 24 of 32 games played and posted 19 points three times. Furthermore, He declared for the NBA draft in April 2014, and forego his tow last years of college. Jerami began as a Guard but, for his defensive skills, and later moved to the Small Forward position.
Jerami Grant Career
He was choosen in the second round of NBA draft on June 26, 2014, with the 39th overall pick by the Philadelphia 76ers and he was part of the teams 2014 NBA Summer League. Later on September 29, 2014 he signed with the franchise a four-year deal whilt two of the years being guaranteed. In addition, Grant re-joined the 76ers in July 2015 for the 2015 NBA Summer League. Jerami recorded his first career double-double with 12 points and 10 rebounds on November 11, 2015 in a loss to the Toronto Raptors.
Furthermore, his career highlight came on December 30, when he had 11 rebounds to go along with 16 points and five blocks in a 110–105 win over the Sacramento Kings. In exchange for Ersan İlyasova and a protected draft pick, Grant was traded to the Oklahoma City Thunder on November 1, 2016. The day after he was traded , he made his debut for the Thunder following day in an 85–83 win over the Los Angeles Clippers, with two rebounds, six points and two blocks in 18 minutes off the bench.
In addition, Jerami re-signed with the Thunder on Julky 7, 2018, and he scored 25 points, 12 rebounds in a 154–147 double-overtime loss to the San Antonio Spurs on January 10, 2019. He was traded to the Denver Nuggets on July 8, 2019, for a 2020 first-round pick. Jerami also signed a three-year, $60 million contract with the Detroit Pistons on November 22, 2020 through a sign-and-trade with the Denver Nuggets. In exchange for cash considerations, the Detroit also received draft rights to 2015 second-round pick Nikola Radičević.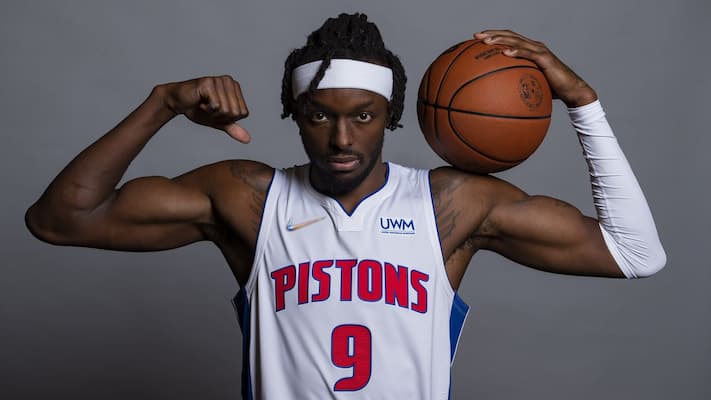 Jerami Grant Portland Trail Blazers
Grant was traded on July 6, 2022 to the Portland Trail Blazers along with the draft rights to Ismaël Kamagate, in exchange for a top-four protected 2025 first-round pick and two future second round picks. In addition, he put up 16 points, along with a game-winning layup in a 106–104 win over Los Angeles Lakers on October 23, 2022. He scored 30 points and hit a game-winning jumper on November 4, 2022, in a 108–106 win over the Phoenix Suns. Later on November 25, 2022, he scored a career-high 44 points in a 132–129 overtime win over the New York Knicks.
Jerami Grant Salary
Grant has an average salary of $ 20 Million as of 2022.
Jerami Grant Net Worth
Grant has earned a net worth of $ 61 Million which he has earned through his career as a professional basketball.
Jerami Grant Age
Grant was born on March 12, 1994, in Portland, Oregon, United States. He is 28 years old as of 2022, and he celebrates his birthday on the 12th of March every year.
Jerami Grant Height and Weight
Grant stands at the height of 6 feet 8 inches(203cm) tall and weighs 210lb (95kg).
Jerami Grant Family
Grant's father is Harvey Grant, a former professional National Basketball Association basketball player while his mother is, Beverly Grant. He has three brothers; Jerai, Jerian and Jaelin. In addition, two of his brothers, Jerai and Jerian, are also professional basketball players. Furthermore, he has an uncle by the name of Horace Grant who is his father's twin and he played college basketball at Clemson and was a four-time NBA champion with the Los Angeles Lakers and Chicago Bulls.
Jerami Grant Girlfriend
Grant has not disclosed information of his current or previous relationships as he is private about his personal life. Howeverm this information will be updated when available.
When was Jerami Grant drafted?
Grant was drafted by the Philadelphia 76ers, 2nd round (9th pick, 39th overall), in the 2014 NBA Draft.
Jerami Grant Injury
Grant succumed a right thumb injury on December 10, 2021, in a 93–109 loss to the New Orleans Pelicans. Later on the 16th of December, he went for surgery to repair the ulnar collateral ligament (UCL) in his right thumb. He was ruled out for about six weeks and on March 28, 2022, Grant was ruled out for the remainder of the season with a calf strain.
Jerami Grant Social Media Platform
Grant is very active on his Twitter, and Instagram pages. He has 55k followers on Twitter and 200k followers on Instagram.
Twitter