Jennifer Mayerle Biography
Jennifer Mayerle is an American anchor and reporter working for WCCO-TV as a Saturday Morning anchor from 8 am to 9 am. She joined the WCCO-TV team in May 2014, after previously working for WGCL-TV.
Jennifer Mayerle Career
Edina is Mayerle's native home and she attended Edina Senior High School where she graduated proudly. Later on, she joined the University of San Diego where she earned a bachelor's degree in communications and mass media. Jennifer started her career at WCCO-TV as an intern. In addition, she enjoys investigating problematic situations that can be corrected by an informed public, reporting on ordinary people who act in extraordinary ways, and telling stories that impact the community positively.
Ever since Mayerle joined the WCCO-TV team, she has been part of the station's 10 'o clock news team. For the team's coverage of Jacob Wetterling case, they were honored with a regional Murrow award. In addition, the RTNDA recognized her with a Murrow for "Spreading Kindness," for her story about the cancer girl and her sister. While Jennifer was in Minnesota, she was honored with an Emmy award by the Minnesota chapter of the Society of Professional Journalists.
Furthermore, Mayerle was happy to cover the 2016 Ryder Cup and she continued her reports from a number of major golf tournaments such as The Masters. Jennifer was moved during her travel with the Minnesota war veterans on their Honor Flight to visit the war memorials in Washington, D.C. She also observed the changing of the guard with them at Arlington National Cemetery.
In addition, Before joining WCCO-TV, Jennifer worked at CBS46 in Atlanta and while she was at the station, she received recognition for her excellence in volunteering in the community and reporting. For Jennifer's in-depth report on the long-lasting effect of concussions and repeated hits to the head on athletes from the youth to the pro level, she received an Emmy award. Furthermore, Mayerle's reports assisted in promoting Georgia legislators to pass The Return to Play Act, a law designed to protect young athletes.
For Jennifer's report on Ann Bartlett, the woman who died in a house fire, she discovered the failure of firefighters to respond adequately to Bartlett's 911 call. For this, Jennifer was awarded a Murrow, an Emmy, and a Georgia Associated Press award in 2011. She also did a report that saved lives. In 2008, she was awarded the Apex Society "Power 30 under 30" award. The award honors 30 professionals in Atlanta who are below the age of 30 for their excellence in their professional and community work. In addition, she loves emceeing events, volunteering, and serving on boards of directors for organizations such as the Atlanta Press Club.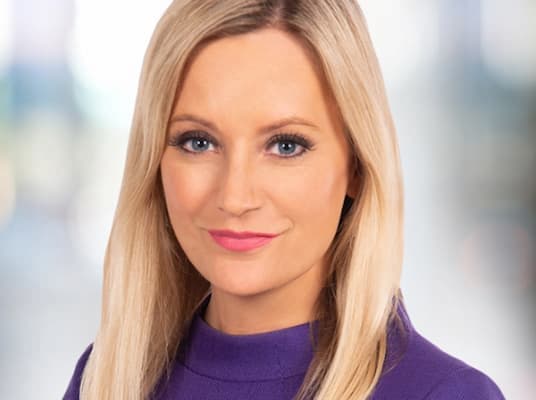 In addition, while Mayerle was in Atlanta, she reported occasionally on The Insider and CNN. She also contributed profiles of famous people to The Atlantan monthly magazine. Before relocating to Atlanta, she worked at WKRG in Mobile, Alabama where she served as a weekend anchor and reporter. While she was at the station, she covered Hurricane Katrina for which she gained international exposure.
She had an interview with Hardy Jackson in Biloxi, Mississippi after his wife was swept from his grasp by the flood waters and for this, she won her first Emmy and Murrow. She became friends with Hardy and maintained the connection until 2013 when Hardy died. In addition, she started her career as a weekend anchor and reporter at KWES in Midland, Texas. Furthermore, she is actively involved in the community and she is a mentor with Minnetonka High School's VANTAGE program. Mayerle is also on the Advisory Board for the Assistance League of Minneapolis St. Paul.
Jennifer Mayerle Salary
Mayerle earns a salary of about $47,000-$120,000.
Jennifer Mayerle Net Worth
Mayerle has an estimated net worth of about $1 Million – $7 Million which she has earned through her career as an anchor and reporter.
Jennifer Mayerle Age
Mayerle was born on December 11, 1978, in Edina, Minnesota, United States. She is 45 years old as of 2023, and she celebrates her birthday on the 11th of December every year.
Jennifer Mayerle Height and Weight
Mayerle stands at a height of 5 feet 5 inches tall. However, information about her weight will be updated when available.
Jennifer Mayerle Family
Mayerle was brought up alongside her brother Rob who is married to Zeynep. However, she has neither disclosed the name of her father nor that of her mother.
Jennifer Mayerle Husband and Children
Mayerle has not disclosed her relationship status as she is very private with her personal life. However, this information will be updated when available.
Jennifer Mayerle Social Media Platform
Mayerle is very active on her Twitter, Instagram, and Facebook pages. She has 7.3k followers on Twitter 4.2k followers on Instagram, and 4.7k followers on Facebook.