Ja Morant Biography
Ja Morant ( Temetrius Jamel Morant) is an American professional basketballer playing for the Memphis Grizzlies of the National Basketball Association while taking the Point Guard position and wearing jersey No 12. In addition, he was drafted into the NBA in 2019, round 1 as the 2nd pick overall by the Memphis Grizzlies.
Ja Morant High School
Morant was born in Dalzell, South Carolina and during his childhood days, he trained basketball with his father in their backyard. His mother, Tee taught him step-back jump shots and bought tractor tires for him to practice jumping with a soft landing. He also had the opportunity to play in the Amateur Athletic Union (AAU) circuit with the South Carolina Hornets and for a season, he was teammates with Zion Williamson, who later became one of the top players in his class.
He studied at Crestwood High School in Sumter, South Carolina. Within his first three years with the high school's team, Morant had grown from 5 ft 9 in (1.75 m) to 6 ft 0 in (1.83 m). By the time he was leaving, he has earned the all-time leading scorer, with 1,679 points, and a career-high score of 47 points against Sumter High School. In addition, during Jamel's last two seasons at Crestwood, he averaged 27 points, 8 rebounds, and 8 assists per game, earning South Carolina Class 3A All-State honors in both years. Furthermore, by the time he was leaving high school, he was a three-time All-Region Most Valuable Player (MVP) however, he was not able to dunk until he was a senior.
Ja Morant College
Morant later joined Murray State University after being accidentally discovered by assistant coach James Kane who saw him playing a three-on-three game in an auxiliary gym and soon after Morant received a scholarship. Later on September 3, 2016, Morant committed to playing for Murray State during dinner at McMahon's house. He played for two years at Murray State University from 2017 to the year 2019. In addition, during his sophomore year, he was the first player to average at least 20 points and 10 assists per game since the NCAA began to recognize assists officially from 1983 to 1984.
In addition, he played 65 games with the Racers and he was able to average 18.7 points, 6.1 rebounds, 8.2 assists, and 1.35 steals in 35.3 minutes while shooting 48.5 percent from the field, 34.3 percent from 3-point range, and 81.0 percent from the free throw line. Prior to leading Murray State to the second round of the NCAA Tournament, Jamel was named the 2019 OVC Player of the Year and OVC Tournament MVP. Furthermore, he was a Recipient of the 2019 Lute Olson Award and 2019 Bob Cousy Award as the nation's best point guard in addition to being selected to The 2019 Wooden Award All-American Team.
In 2018 and 2019, he was selected twice for the All-OVC First Team, and he scored in double figures 57 times, including six games with at least 30 points, 27 games with at least 20 points, and one 40-point performance during his collegiate career. He did also record 26 double-doubles, including four triple-doubles. After the Murray State loss in 2019's NCAA men's basketball tournament, Morant made an announcement stating that he was to forgo his final two seasons of collegiate eligibility and declare for the 2019 NBA draft.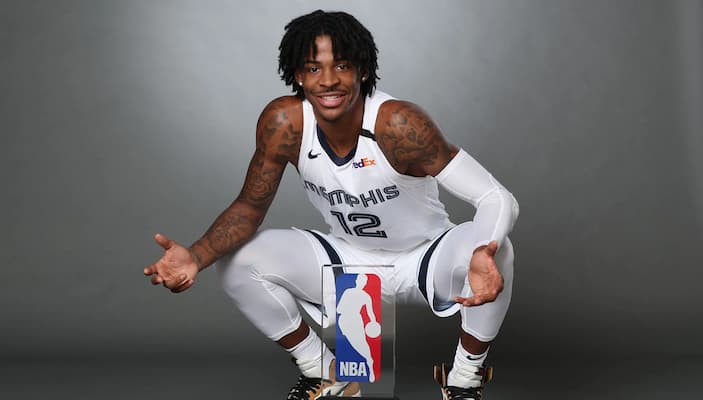 Ja Morant Memphis Grizzlies
During the 2019 NBA draft, Morant was drafted second overall by the Memphis Grizzlies. He then signed a four-year contract worth $39.6 million with the Grizzlies on July 2, 2019. Morant recorded his first career triple-double in a 106–99 win over the Washington Wizards on February 9, 2020, and he was selected as the Rising Stars Game for the 2019–20 season. While the season was coming to an end, Jamel was named the NBA Rookie of the Year and he earned the NBA All-Rookie First Team honor. He recorded a then-career-high 44 points, alongside nine assists, two rebounds, and two steals in a 131–119 loss to the San Antonio Spurs on December 23, 2020.
In addition, he started all 130 of his appearances in two seasons with the Memphis Grizzlies. Morant has averaged 18.4 points, 3.9 rebounds and 7.3 assists in 31.7 minutes while shooting 31.7 percent from 3-point range, 46.3 percent from the field, and 75.0 percent from the free throw line. Furthermore, sure to injury he missed 13 games and missed one more for rest. He has scored in double figures 120 times, inclusive of nine games with at least 30 points, 54 games with at least 20 points, and one game with at least 40 points. Additionally, Morant has also grabbed double-digit rebounds three times, recorded double-digit assists 31 times, and posted 29 double-doubles, including three triple-doubles.
Morant put up his seventh career triple-double with 27 points, 10 rebounds, and 15 assists in a 112–100 win over the Indiana Pacers on January 29, 2023. Furthermore, he was the first player in Grizzlies history to ever put up at least 25 points, 10 rebounds, and 15 assists in a game. He was named his second NBA All-Star Game on February 2, 2023, as a reserve guard for the Western Conference.
Ja Morant Salary
As of 2023, Morant earns an annual salary of $12,119,440.
Ja Morant Net Worth
Morant has a net worth of $80 Million which he has earned through his career as a professional basketball.
Ja Morant Age
Morant was born on August 10, 1999, in Dalzell, South Carolina, United States. He is 23 years old as of 2022, and he celebrates his birthday on the 10th of August every year.
Ja Morant Height and Weight
Morant stands at a height of 6 feet 2 inches (1.88m) tall and weighs 174lb (79kg).
Ja Morant Family
Morant's father is known as Tee Morant. His father was a high school teammate of Ray Allen and played basketball for Claflin University. His mother, Jamie Morant was a point guard in high school and while in college, she played softball. After playing semi-professionally, Tee considered playing professional basketball overseas. However, he forgo his basketball career after Jamie became pregnant with Ja, thus becoming a barber instead. In addition, Morant has a younger sister known as Teniya.
Ja Morant Girlfriend
Morant is currently in a relationship with KK Dixon, who he started dating in 2017, after having met during his college freshman year. Dixon is the daughter of DeShannon Dixon and Christal Dixon, and she has an older brother named Tyrik, who plays basketball for the Missouri State Bears, and a younger sister named Braylee Dixon. KK is a rapper and she uses Kadre Dixon as her stage name. In addition, she is enrolled at Fisk University, located in Nashville, Tennessee, where she plays Volleyball and Basketball. Morant and Dixon went public about their relationship back in 2018.
Ja Morant Daughter
Morant and his girlfriend KK Dixon had a daughter back in 2019, who they named Kaari Jaidyn Morant. He often brings his daughter to his games.
Ja Morant Injury
Over the years, Morant has succumbed to several injuries while playing basketball. He has missed a total of 13 games after having injuries while playing for the Memphis Grizzlies.
Ja Morant Social Media Platform
Morant is very active on his Twitter, Instagram, and Facebook pages. He has 2.6M followers on Twitter 9M followers on Instagram and 2.4M followers on Facebook.