Hilary Golston Biography
Hilary Golston is an American six-time Emmy-winning anchor working for FOX 2 as the co-anchor of the weekend evening news at 5 p.m. and 6 p.m. She joined the FOX 2 team in September 2017, after previously working for WKYC-TV.
Hilary Golston Career
Prior to joining FOX 2, Hilary worked for WKYC in Cleveland and while she was at the station, she collected three Cleveland Press Club awards. She also appeared on MSNBC where she put to work her expertise in the Tamir Rice case. Golston was nominated for two Emmy awards in Michigan within months of arriving at Fox 2. In addition, she was a board member of the Michigan Chapter of the National Academy for Television Arts & Sciences and is currently its Vice President on the Board of Governors.
Furthermore, ever since she arrived in Detroit, she has had interviews with a number of the nation's high-profile politicians such as; White House Press Secretary Karine Jean-Pierre, President Joe Biden, Governor Whitmer, Majority Whip Jim Clyburn, RNC Chair Ronna McDaniel, Lt. Governor Garlin Gilchrist, House Speaker Nancy Pelosi, Senators Gary Peters and Debbie Stabenow, members of Congress serving the Metro Detroit, and many candidates running for Congress.
Detroit is Golston's native home and she attended Detroit Country Day High School where she graduated proudly. She made her mark in television by appearing on Fox Sports Network Detroit as a reporter for High School Hammertime. Later on, she joined George Washington University where she earned a Bachelor of Arts in Politic Science. Prior to her graduation, she served as an anchor and reporter for The Source, which is a magazine news show that is produced by students. In addition, the Washington DC former WB Interloop show aired Golston's report on the inter-county connector.
Furthermore, she started her career at the CBS station in Green Bay, Wisconsin where she served as a night-side reporter, web producer, and later fill-in anchor. While she was at the station, her most memorable story was reporting on a small child with a rare skin disease who had been denied the funds needed for a potentially life-saving treatment. In addition, for her general assignment reporting, she was honored with the Lower Great Lakes Regional Emmy. She was also awarded the Emmy for stories she did on protests in response to the election of President Donald Trump, an activist's heroic response to violence on the streets of Cleveland, and a one-on-one in-depth interview with a Black pastor making national headlines for supporting Trump.
Over the years, Hilary has reported on a number of the largest national and local stories of the day such as the Brelo verdict and the Republican National Convention. In addition, she has also covered a number of the highest-profile police shootings in the nation. She also covered breaking stories that have held Cuyahoga County's Prosecutor accountable. Furthermore, Golston gave live reports from the command center where Governor Nikki Haley gave press briefings. She uncovered details about a $3.4 million request for emergency funds to pay police while reporting on the Michael Brown case in Ferguson, Missouri.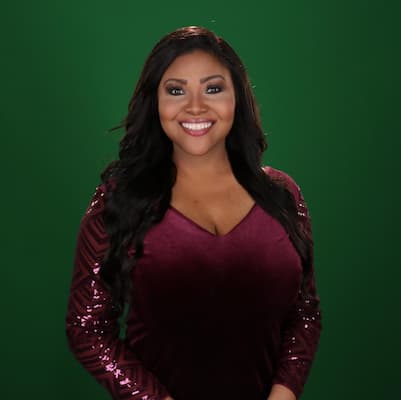 While she worked at the NBC station in Birmingham, Alabama, she served as a weekend evening anchor. For a report in a special that marked the one-year anniversary of the worst tornado outbreak to strike Alabama, she won an Emmy. In addition, for over two years, she worked at NBC 13's sports where she covered the weekend evening shows. Whenever she finds time, she enjoys training for the Suzuki piano and is an 8-year craft student.
Hilary Golston Salary
Golston earns a salary of about $47,000-$120,000.
Hilary Golston Net Worth
Golston has an estimated net worth of about $1 Million – $7 Million which she has earned through her career as an anchor.
Hilary Golston Age
Golston was born on September 15, 1984, in Detroit, Michigan, United States. She is 38 years old as of 2022, and she celebrates her birthday on the 15th of September every year.
Hilary Golston Height and Weight
Golston stands at a height of 5 feet 6 inches tall. However, information about her weight will be updated when available.
Hilary Golston Family
Golston likes to keep her personal life private hence she has neither disclosed the names of her parent nor those of her siblings. However, this information will be updated when available.
Hilary Golston Husband and Children
Golston has not disclosed her relationship status as she is very private with her personal life. However, this information will be updated when available.
Hilary Golston Social Media Platform
Golston is very active on her Twitter, Instagram, and Facebook pages. She has 3.1k followers on Twitter 1k followers on Instagram, and 4.5k followers on Facebook.