Gwen Tolbart Biography
Gwen Tolbart is a Canadian Emmy award-winning meteorologist who is currently working at FOX 5 DC. She joined the FOX 5 DC news team in 2002, serving as a weather anchor and reporter on Wednesdays and Thursdays and on Friday, Saturday, and Sunday nights.
Gwen Tolbart Career
Her broadcasting career started in Montreal, Quebec, Canada which is also her native home. She attended Montreal's Concordia University where she attained a Bachelor of Arts in Journalism and also the Dawson College where she graduated proudly in Social Science. Furthermore, she got her start in Community Tv where she served as a host and producer of the Black Community Communications Media's news magazine program "Black Is" and contributed to the radio show, "Black Speaks."
Later on, she served as a weather and news anchor of "Weather Network" in addition to working at CTV's Montreal CFCF-12 as a weather anchor and reporter on the consumer advocacy program "Fighting Back" and host on the internationally syndicated, award-winning travel show, "Travel, Travel."
She relocated to Dallas, Texas where she worked at KTVT in 1997, serving as an anchor, host, and feature reporter. In her career as a journalist, she has been awarded a weather team Emmy, d "2000 Media Person Of the Year" award, and five National Association of Black Journalists Broadcasting Awards. In addition, since she joined WTTG FOX 5 DC in 2002, she has earned three Associated Press awards and five Emmy nominations.
She did tutor elementary school children, helped set up mentor programs and workshops for at-risk girls and single teen moms while she worked at CBS in Dallas. In addition, in 2002 she received a "Woman of Distinction Award" with official commendations from the Governor of Texas, she also received the National Association of Black Journalists' "National Community Service Award" (NABJ) which was featured in Jet Magazine, and the United States Congress. Furthermore, for Chernova Scotia House of Assembly – Government of Canada community service and career achievements, in 2002, they officially recognized her efforts.
While she was in Washington, DC, she served on; the Board of the Juvenile Diabetes Research Foundation, on the Board of "Our House," (a residential program for at-risk adolescent males) in Olney MD for a period of fourteen years where she raised major funds for a new dorm and coordinated programs.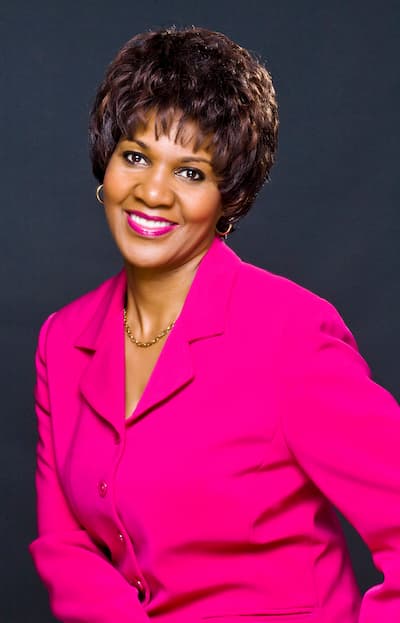 In 2004, The Empower Program which serves teen girls awarded her the Voices Against Violence Award, In 2009, she received the New Endeavors By Women Volunteer Award, the Com-fort Cases which serves foster children honored her in 2018, with the "Champion Of the Year Award, and she was named as one of the 2014 Top 100 Women In the State of Maryland" by The Daily Record.
Aside from her journalism career, she is also an entrepreneur as she owns her own professional speaking business called Tolbert Talks prior to being a Motivational and Keynote Speaker, Speaking Coach, Seminar Leader, and Emcee. She is a former Board Member of the D.C. NSA Chapter and currently a member of the National Speaker's Association (NSA). In the NSA USA National Keynote Speaking Competition, she was the first runner-up.
Gwen Tolbart Age
Tolbart was born in Montreal, Quebec, Canada. However, she has not disclosed her birthday, month, or year as she likes to keep her personal life private.
Gwen Tolbart Height and Weight
Tolbart stands at an average height of 5 feet 5 inches. However, she has not disclosed her weight as she likes to keep her personal life private.
Gwen Tolbart Family
Tolbart is private about her personal life thus she has not revealed the names of her parents or siblings. However, she posted her mother on her Instagram account wishing her a happy mothers day.
Gwen Tolbart Husand
Tolbart has not disclosed her relationship status as she is very private with her personal life. However, this information will be updated when available.
Gwen Tolbart Net Worth
Tolbart has an estimated net worth of about $1 Million – $7 Million which she has earned through her career as a weather anchor and reporter.
Gwen Tolbart Salary
Tolbart earns a salary of about $47,000-$120,000.
Gwen Tolbart Social Media Platform
Tolbart is very active on her Twitter, Instagram, and Facebook page and she has 7k followers on Twitter, 266 followers on Instagram, and 11k followers on Facebook.
Twitter