Gabby Windey Biography
Gabby Windey (Gabriela Maria Windey) is an American ICU nurse and television personality who is currently a bachelorette on the nineteenth season of The Bachelorette. She has also appeared on the twenty-sixth season of The Bachelor. In addition, serves as an ICU nurse at the University of Colorado Hospital.
Gabby Windey Education
Windey attended O'Fallon Township High School and while she was there, she served as the sports editor for the school paper. In the year 2008, she won the title of Miss O'Fallon. Later on, she joined the University of Colorado Colorado Springs where she graduated proudly in 2013 and relocated to Denver, Colorado.
Gabby Windey Career
Windey is a television personality who is currently a co-start on the nineteenth season of The Bachelorette alongside Rachel Recchia. O'Fallon, Illinois, United States is her native home. After she had graduated from the University of Colorado, she relocated to Denver, Colorado.
Currently, she works at the University of Colorado Hospital where she serves as an ICU nurse. In addition, she has also served as a cheerleader for the Denver Broncos for a period of five years. For her service on the frontline of the pandemic, she was the co-winner of the Pop Warner Humanitarian Award thus making her the first woman and NFL cheerleader to receive the award.
Windey disclosed that she would be a contestant on season 26 of The Bachelor in September 2021, which stars medical sales representative Clayton Echard. Furthermore, she was announced during the live After the Final Rose special of Echard's season as a co runner-up alongside Rachel Recchia on the nineteenth season of The Bachelorette.
She is more than what meets the eye as beauty is not her only charm but she also has lots of emotional depth, a wealth of lived experiences, and substance. In her quest for a husband, she is in search of a man who portrays confidence. In addition, her interest is not in physical appearance but also adds that if one does not have a personality, then that's a no for her.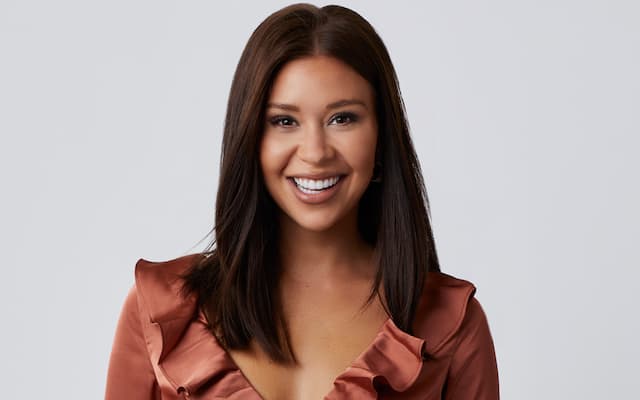 Furthermore, her ideal man is one who; communicates his feelings, challenges her, and works hard to equally carry the weight of the relationship. Her non-negotiable role is that the man who captures her heart also has to have room for her four-legged friend because she and her Goldendoodle, Leonardo, are a package deal. In conclusion, she hopes to find a man who will love her for the independent woman she is.
Gabby Windey Age | Gabby Windey Birthday
Windey was born Gabriela Maria Windey on January 2, 1991, in O'Fallon, Illinois, United States. She is 32 years old as of 2023, and she celebrates her birthday on the 2nd of January every year.
Gabby Windey Height and Weight
Windey stands at a height of 5 feet 9 inches tall and weighs 65 kg ( 143 lb).
Gabby Windey Family
Windey's father is known as Patrick Windey while her mother is known as Rosemary Hewitt. She has an elder sister who is known as Jazz. Gabby Disclosed that she does not have a good relationship with her mother and that they have not spoken in years.
Gabby Windey Boyfriend
Windey is currently single and has not disclosed any information about her previous relationships. However, Gabby hopes to find a good man on The Bachelorette.
Gabby Windey Net Worth
Windey has a net worth of $ 1.1 million which she earns through her career as an ICU nurse.
Gabby Windey Salary
Windey earns an annual salary of $ 300,000.
Gabby Windey The Bachelorette (season 19)
After Gabby and Recchia made it to the final season of The Bachelor's 26th season, they were announced as joint Bachelorettes for season 19 of The Bachelorette on March 15, 2022. Rachel and Gabby will meet the 32 men who are vying for their hearts with the hope of finding love on the 19th season of the Bachelorette.
The 32 men who will try their lack to impress and win the Bachelorette's hearts are;
Alec Garza
Aven Jones
Brandan Hall
Chris Austin
Colin Farrill
Erich Schwer
Ethan Kang
Hayden Markowitz
Jacob Rapini
James Clarke
Jason Alabaster
Joey Young
John Anderson
Johnny DePhillipo
Jordan Helman
Jordan Vandergriff
Justin Budfuloski
Justin Young
Kirk Bryant
Kirk Bryant
Mario Vassall
Mario Vassall
Matt Labagh
Michael Vaughan
Nate Mitchell
Quincey Williams
Robert Ryan
Mula Sobieski
Spencer Swies
Termayne Harper
Tino Franco
Tyler Norris
Gabby Windey Ethnicity
Windey is American by nationality however, she has not disclosed her ethnicity
Gabby Windey And Dean Unglert
During Dean's October episode Help! I Suck at Dating podcast, he revealed that Dean and Gabby dated while they were nineteen years in college and their relationship lasted for over a year. Unglert described her as the second love of his life and during one of the other episodes of his podcast Help! I Suck at Dating, he said that she was one of her main girlfriends.
He also praised her to the producers of the show stating that If she gets selected for the show, she'll either win the show or she'll be the next Bachelorette. Fans are confused over Dean's words as he is not following his current girlfriend Caelynn Miller-Keyes on Instagram but follows Windey.
Dean Michael Unglert was a contestant on the 13th season of The Bachelorette however, he was eliminated in the 8th week. Later on, he appeared on the 4th season of Bachelor in Paradise but quit in the fourth week, and despite it all, he returned again for The Bachelor Winter Games.
Gabby Windey Blake Horstmann
Blake Horstmann became popular when he competed as the runner-up on Becca Kufrin's Bachelorette in 2018. In 2019, he continued his reality TV spree by competing in Bachelor in Paradise. Blake is the co-host of the Behind the Rose podcast. During the Talking It Out With Bachelor Nation, Gabby claimed that her previous romance with The Bachelorette season 14 runner-up Blake was not as serious as he may have pointed out.
Gabby added that they never actually went on a date, there were no drinks paid for, and they definitely did not go for dinner thus for her Balke is nor of a friend of friends.