Donovan Williams Biography
Donovan Williams is an American professional basketball player for the Atlanta Hawks of the National Basketball Association (NBA). While playing for the Atlanta Hawks, he plays the shooting guard position. In addition, Williams joined the Atlanta Hawks on January 17, 2023, on a two-way contract.
Donovan Williams Career
Donovan Williams High School
Williams was brought up in Houston, Texas and his parents took him to Elkins High School where he earned his high school diploma. Later on, he joined the school's basketball team as a four-star prospect, and while in high school, Rivals ranked him No. 61 overall in the country. After his team won back-to-back district championships, Williams was named the district MVP.
In addition, Donavan was selected on the all-district selection as a two-time first team and as a member of the all-state team twice. During his senior year of College, he earned an average of 18.2 points per contest as he lead the leading to earn a 31-8 record for which he earned a trip to the Class 6A regional semifinals. Furthermore, he assisted Elkins to earn a 29-12 mark after achieving an average of 13.2 points per game and a trip to the Class 5A state quarterfinals as a junior.
Donovan Williams College
After graduating from high school, Donavan joined the University of Texas in 2019. While he was at the University, he continued with his Basketball career while playing for the Texas Longhorns men's basketball team. Williams appeared in 26 games, made one start, averaged 3.3 points, averaged 11.0 minutes played per contest, and 1.0 rebounds per game. During his freshman year, he was able to earn a career-high 13 points twice and he was named to the 2020 Academic All-Big 12 Men's Basketball Rookie Team. In addition, while Donavan was at Texas Tech, he suffered a left knee injury thus he did not play for the rest of the season.
Furthermore, during Williams sophomore year he appeared in 15 games and averaged 10.1 minutes per contest. He was able to score 3.3 points per game with 1.1 rebounds per game and scored a season-high 11 points while playing against Oklahoma. In 2021, he was selected to the 2021 Academic All-Big 12 Second Team. For his junior year in college, he transferred to the University of Nevada, Las Vegas where he studied from 2021 to 2022, and on June 1, 2022, Williams declared for the 2022 NBA draft.
Donovan Williams Profesional Career
Williams signed a contract with the Long Island Nets on October 19, 2022, after having gone undrafted in the 2022 NBA draft. Later on January 17, 2023, he signed a two-way contract with the Atlanta Hawks thus splitting time with their NBA G League affiliate, College Park Skyhawks. While playing for the Atlanta Hawks, he wears No. 4. Later on January 29, 2023, the Hawks PR twisted that the Atlanta Hawks has transferred Williams to the Skyhawks.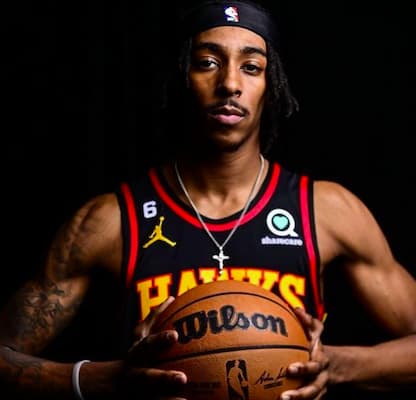 Donovan Williams Salary
Williams earns an annual salary of $239,822.
Donovan Williams Net Worth
Williams is estimated to have a net worth of about $1 Million which he has earned throughout his career as a basketball player.
Donovan Williams Age
Williams was born on September 6, 2001, in Houston, Texas, United States. He is 22 years old as of 2023, and he celebrates his birthday on the 6th of September every year.
Donovan Williams Height and Weight
Williams stands at a height of 6 feet 6 inches (1.98 m) tall and weighs 190 lbs (86 kg).
Donovan Williams Family
Williams' father is known as Darwin Williams while his mother is Kim Williams. He is the youngest of four children in his family who include, including two sisters Kelsey Bone and Keondra Williams, and a brother, Darrien Jackson.
Donovan Williams Sister
Williams is very close to his elder sister Kelsey Bone with whom they have an age gap of 10 years. Kelsey attended Dulles High School in Sugar Land, Texas and she played in the WNBA. Bone taught Donovan basketball and from her, he has learned a great deal. In addition, the two are still very close to date and can hardly go for a day without talking to each other.
Donovan Williams Girlfriend
Williams has not disclosed any information about his current or any of his previous relationships. However, this information will be updated when available.
Donovan Williams Social Media Platform
Williams is very active on his Twitter, Instagram, and Facebook pages. He has 767 followers on Twitter 10.4k followers on Instagram, and 448 followers on Facebook.