Devale Ellis Biography
Devale Ellis is an American actor, podcast host, author, and former NFL wide receiver. He is known for being on the television series Sistas and on its spin-off Zatima and in both, he takes up the character Zac Taylor.
Ellis attended James Madison High School in Brooklyn, New York and while he was there, he played football and basketball. During his senior year, he lit up the Public School Athletic League and he also played in the PSAL all-star game and earned the nickname Devale "Show Time" Ellis. Later on, he joined Hofstra University where he was a team member of New Orleans Saints wide receiver Marques Colston. In 2005, he led Hofstra with 74 receptions for 943 yards and five touchdowns. Devale was ranked second place in the Atlantic 10 in receptions, third in receiving yards, and ninth in all-purpose yards (103.8 yards per game).
Furthermore, in the 2006 NFL Draft, he went undrafted, however, he was signed as a free agent after he took part in the rookie mini-camp as a tryout player. On September 3, 2006, Ellis was signed to Lion's eight-man practice squad. After spending the 2008 regular season away from football, he was signed to a future contract on December 31, 2008, by the Cleveland Browns, and on July 26, 2009, he was waived.
Devale Ellis Salary
Ellis earns a salary of about $120,000-$400,000.
Devale Ellis Net Worth
Ellis has an estimated net worth of about $4 Million – $10 Million which he has earned through his career as an actor, podcast host, author, and former football wide receiver.
Devale Ellis Age
Ellis was born on April 2, 1984, in Brooklyn, New York, United States. He is 39 years old as of 2023, and he celebrates his birthday on the 2nd of April every year.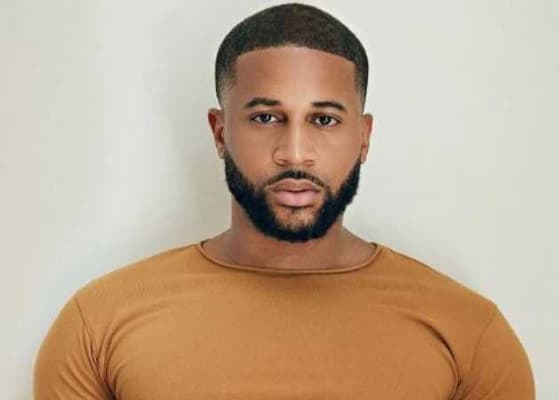 Devale Ellis Height and Weight
Ellis stands at a height of 5 feet 10 inches (1.78 m) tall and weighs 174 lb (79 kg).
Devale Ellis Family
Ellis' father is known as Troy Ellis while his mother is Karen Ellis. He has a sister whose name he has not disclosed her name.
Devale Ellis Wife/ Devale and khadeen Ellis
Ellis is married to Khadeen Ellis who he began dating while they were both at Hofstra University in Hempstead, New York. Together, they have a comedy-filled YouTube channel known as The Ellises where they showcase their family vlogs and skits. The couple also created a podcast known as Dead Ass, where they give advice on love, marriage, and business. In addition, together with his wife, they co-authored the book We Over Me.
Devale Ellis Children
Ellis and his wife Khadeen have been blessed with four sons who they named; Jackson born in 2011, Kairo born in 2016, Kaz born in 2017, and Dakota born in 2021.
Devale Ellis Tattoos
Ellis is a tattoo lover thus he has a number of tattoos on him including on both his arms and his biceps. However, he has not disclosed the total number of tattoos he has and what they mean and represent.
Devale Ellis House
Ellis and his wife Khadeen own 40 Club Court in Alpharetta, Georgia which has a total of 2 floors and it sits on 30,928 square feet of land. The house contains 6,808 sqft of living area with 4 full bathrooms and 3 partial bathrooms.
Devale Ellis Cheated
Ellis and his wife spoke about past infidelities and how they each got through their moments of transgression on their podcast known as Dead Ass.
Devale and Khadeen Ellis Black Love
Devale and his wife Khadeen were featured on the second season of Black Love in 2017, where they shared their love story from how they met, got married, and their accomplishments so far.
Devale Ellis Sistas
Ellis has starred in the American comedy-drama television series Sistas since 2019 when the series first premiered. He took the main character Zac Taylor who happens to be Karen's ex whom he wants to get back with. Other casts on the series include; KJ Smith as Andrea Barnes, Ebony Obsidian as Karen Mott, Mignon Von as Daniella King, Brian Jordan Jr.as Maurice Webb, and Crystal Renee Hayslett as Fatima Wilson.
Devale Ellis Zatima
Ellis will be the main case on the Sistas spin-off series Zatima which premiered on September 29, 2022. Devale takes the character Zac Taylor and in the series, Zac Taylor and Fatima Wilson (Crystal Renee Hayslett) navigate the ups and downs of their relationship.
Devale Ellis Movies and TV Shows
Sistas
Black Love
A Piece of Me
Gotham
The Blacklist
Power
Meet The Blacks 2
Makeup x Breakup
The Equalizer
Zatima
Tough Love
Devale Ellis Social Media Platform
Ellis is very active on his Twitter, Instagram, and Facebook pages. He has 39k followers on Twitter 1M followers on Instagram and 1M followers on Facebook.