Dave LewAllen Biography
Dave LewAllen is an American four-time Emmy award-winning anchor who is currently working at WXYZ. He serves as the weekday evening anchor of 7 Action News at 6, 7, and 11 on WXYZ-TV and 10 p.m. anchor on TV20 Detroit. In addition, he joined the Channel 7 news team in 1988 as a sports reporter.
Dave LewAllen Career
Previously, he served as weekend sports, and in 2004, he made a permanent switch to news. NATAS Michigan honored him with a Silver Circle recipient in 2012 for his service and achievements over 25 years in the broadcast industry. Over the years, he has worked at WJIM-TV (now WLNS-TV) in Lansing and WJBK-TV in Southfield.
Furthermore, he has also covered sports for CKLW-AM in Detroit and WJR-AM. He was also the radio play-by-play voice of the University of Detroit basketball for several seasons. In addition, he conceived and hosted "Golf Michigan," which aired on WXYZ for four years. In addition, he has hosted many news and sports specials on WXYZ, including the Rochester Hometown Christmas Parade, and the Woodward Dream Cruise, Light Up the Season.
Over the years, he has covered NBA Finals, NBA Finals, the World Series, three Super Bowls, and major golf championships, including Ryder Cup matches, U.S. Open, and the Masters. In addition, he is also a member of the Board of Directors for Rainbow Connection, which provides wishes for Michigan children with life-threatening illnesses.
Furthermore, on the Board of the non-profit, he served its President for a period of two years. Additionally, he is also a former president of the Detroit Sports Broadcasters Association. Prior to also servings as the chairperson of a charity golf outing for the National Kidney Foundation of Michigan for over a decade.
Additionally, he contributes his time on behalf of numerous Detroit area charities including; St. Patrick Senior Center in Detroit, Cass Community Social Services Community, and Society of St. Vincent de Paul. Furthermore, he attended Central Michigan University, Mount Pleasant where he graduated with a bachelor's degree in journalism. During his downtime, he enjoys baseball card collecting, fishing, politics, reading, and playing golf.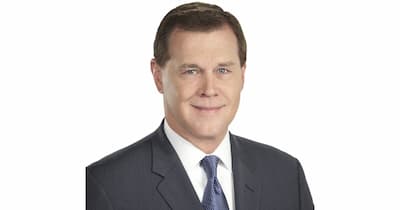 Dave won a 2007 Emmy for "Best Weekend Newscast," an award he shared with co-anchor Glenda Lewis and producer Tim Kochenderfer. Among his other awards, Dave won Emmy's for "Breaking News" for Channel 7's live continuing coverage of fires in Highland Park, and for the series, "March Madness," an inside look at the Michigan state high school basketball tournament.
Dave LewAllen Salary
LewAllen earns a salary of about $47,000-$120,000.
Dave LewAllen Net Worth
LewAllen has an estimated net worth of about $1 Million – $7 Million which he has earned through his career as an anchor and reporter.
Dave LewAllen Retirement
After having worked at WXYZ in Detroit for 35 years, LewAllen made an announcement on Wednesday 25, January 2023, that he would be leaving the station for his retirement in mid-April 2023.
Dave LewAllen Age
LewAllen likes to keep his personal life private hence he has not disclosed his age. However, this information will be updated when available.
Dave LewAllen Height and Weight
LewAllen stands at a height of 5 feet 8 inches tall. However, information about his weight will be updated when available.
Dave LewAllen Family
LewAllen likes to keep his personal life private hence he has neither disclosed the names of his parent nor those of his siblings. However, this information will be updated when available.
Dave LewAllen Wife and Children
LewAllen is married to Sandra. Together the couple has been blessed with two children. He resides in Oakland County with his wife and children.
Dave LewAllen Social Media Platform
LewAllen is very active on his Twitter, Instagram, and Facebook page and he has 10k followers on Twitter, 888 followers on Instagram, and 3k followers on Faceboo