Cynthia Smoot Biography
Cynthia Smoot is an American Emmy award-winning anchor and reporter working for FOX 13 Tampa Bay as a co-anchor of the weekday evening newscast at 5 pm and 11 pm. She joined the FOX 13 Tampa Bay team in September 1997, after previously working for WGHP TV.
Cynthia Smoot Career
Whenever Cynthia is not on the anchoring desk, she can be found covering a story about Florida's wildlife or people and their pets. She is naturally passionate about animals including the Winter the Dolphin whose story she covered from Winter's birth with an uncertain future to the development of her prosthetic tail and her wonderful life and legacy. Smoot has also reported on a number of the area's most notorious animal cruelty cases, after the story of "Casper," who was almost starved to death, from the day he arrived at the county shelter to the day he went home with his new adoptive owner.
In addition, she has also traveled to the Everglades where she reported on the threat of Burmese pythons. She was awarded an Emmy award in 1998, for A Real Life Horse Whisperer which was the story of Monty Roberts, who assisted in revolutionizing horse training with his non-violent methods. She was brought up in Yorktown, Virginia, and attended James Madison University where she graduated with a Bachelor of Arts in communications. Cynthia has served as a broadcast journalist for over 35 years and her career started in radio. While she worked on radio, she was an award-winning morning news anchor and news director, and in television, she served as a reporter, producer, and anchor.
Prior to joining WTVT in 1997, she worked at the FOX-owned and operated TV station in Greensboro/Winston-Salem/High Point, North Carolina for 13 years, and while she was there, she served as the 5 pm, 6 pm, and 10 om anchor. Furthermore, while Smoot worked in North Carolina, she was actively involved in children's issues and she received some community awards and honors for her involvement and advocacy on issues relating to working women, teenage pregnancy, infant mortality, foster care, and adoption. In addition, she traveled with the medical teams to Panama and Ecuador where she reported on the life-changing surgery they performed on children with facial and limb deformities.
Cynthia Smoot Salary
Smoot earns a salary of about $47,000-$120,000.
Cynthia Smoot Net Worth
Smoot has an estimated net worth of about $1 Million – $7 Million which she has earned through her career as an anchor.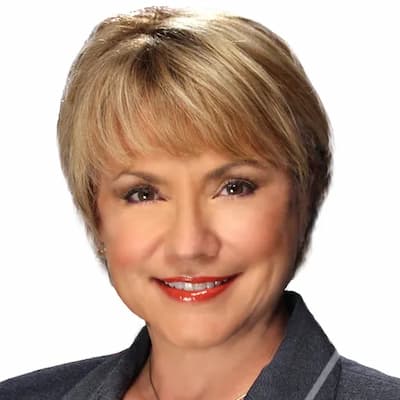 Cynthia Smoot Age
Smoot likes to keep her personal life private hence she has not disclosed her age. However, this information will be updated when available.
Cynthia Smoot Height and Weight
Smoot stands at the height of 5 feet 5 inches tall. However, she has not disclosed information about her weight, hence will update you on the information when is available.
Cynthia Smoot Family
Cynthia has a nephew known as Brandon Gdovic who is a Lamborghini instructor and was the Lamborghini NA and world champion in 2015. However, she has disclosed information about her parents and siblings.
Cynthia Smoot Husband and Children
Smoot tied the knot to Bill in 1984, and the couple has been blessed with a child known as Dream Mustang, who is in charge of conserving the wild horses of America. Cynthia resides in Tiere Viede, Florida, the United States together with her husband and son.
Cynthia Smoot Leaving FOX 13 Tampa Bay
After having worked at FOX 13 for 25 years, Cynthia is set to leave the station to head home for retirement. She has been serving as the weekday evening newscast at 5 pm and 11 pm anchor and her last newscast at the station will be on December 1, 2022.
Cynthia Smoot Social Media Platform
Smoot is very active on her Twitter, Instagram, and Facebook pages. She has 9k followers on Twitter 1k followers on Instagram and 15k followers on Facebook.