Clayton Echard Biography
Clayton Echard is a 28-year-old Medical sales representative and a reality television show cast on The Bachelorette. 
Eureka, Missouri is his native home and he attended Eureka High School where he graduated proudly. Later on, he joined the University of Missouri in Columbia and while he was there, he played for their Division I football team as a tight end throughout his collegiate tenure. In addition, he graduated with a major in Health Sciences and minors in Spanish and Business.
He can be termed as a good-looking guy with a great job and a wonderful family. The only missing piece in his life is the perfect woman which whom he would spend an eternity with. In addition, his dream woman is one who is funny, intelligent, independent, and athletic enough to join him at the gym for a workout.
His goal is to find something truly special with a lady who is willing to put in the hard work to find love that will last forever. Furthermore, he is eager to meet Michelle Young and is hopeful that she has a passion for her career. Additionally. his mother is a teacher just like Michelle thus he finds it impressive that she's made this journey work without having to take time away from her students. He sincerely hopes and believes that Michelle Young might be the perfect match for him.
Clayton Echard Age
Echard is 30 years old as of 2023. He was born on April 29, 1993, in Eureka, Missouri, the United States. Clayton celebrates his birthday on the 29th of April every year.
Clayton Echard Height and Weight
Echard stands at a height of 6 feet 5 inches tall and weighs 256 lbs.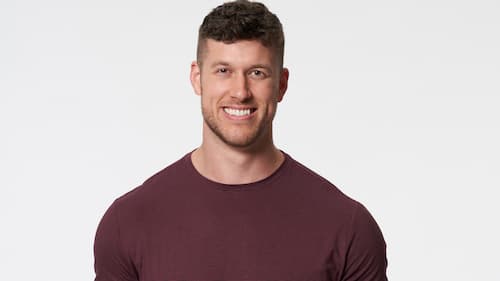 Clayton Echard Family
Echard's mother is known as Kelly Duff Echard while his father is known as Brian Echard. He has two brothers known as Nate and Patrick. On the 19th of March 2020, he wished his father a happy 57th birthday via an Instagram post.
Clayton Echard Wife
Echard is currently single and is hopeful that bachelorette Michelle Young will be his perfect match.
The Bachelorette season 18
The Bachelorette is an American reality television dating game show. The casts on the 18th season of the show include;
Alec Thompson -who is a 29-year-old Engineer
Brandon Jones. – who is a 26-year-old Traveling Nurse Recruiter
Brandon Kieffer – who is a 29-year-old Brand Manager
Bryan Witzmann – who is a 31-year-old NFL Player
Casey Woods – who is a 36-year-old Advertising Creative Director
Chris Gallant – who is a 28-year-old Motivational Speaker
Chris Sutton – who is a 28-year-old Commodities Broker
Daniel Tully – who is a 26 years old Firefighter
Edward Naranjo – who is a 27-year-old Wellness Coach
Garrett Aida – who is a 33-year-old Tech CEO
Jack Russell – who is a 30-year-old Former Army Officer
Jamie Skaar – who is a 32-year-old Biotech CEO
Joe Coleman – who is a 28-year-old Real Estate Developer
JoMarri Gable – who is a 26 years old Personal Trainer
Leroy Arthur – who is a 27-year-old Biomedical Ph.D. Student
Lowell Murray IV- who is a 38-year-old Yoga Guru
Martin Gelbspan – who is a 39-year-old Personal Trainer
Mollique Johnson – who is a 36-year-old Academic Administrator
Nayte Olukoya – who is a 27-year-old Sales Executive
Olumide Onajide- who is a 27-year-old IT Analyst
Pardeep Singh – who is a 30-year-old Neuroscientist
Peter Izzo – who is a 26 years old Pizzapreneur
PJ Henderson – who is a 30-year-old Firefighter
Rick Leach – who is a 32-year-old Medical Sales Rep
Rodney Matthews – who is a 29-year-old Sales Representative
Romeo Alexander – who is a 32-year-old mathematician
Ryan Fox – who is a 30-year-old Environmental Consultant
Spencer Williams – who is a 25-year-old Financial Crimes Analyst
Will Urena – who is a 28-year-old Academic Interventionist
Garrett Aida Social Media Platform
Aida is very active on his Twitter, Instagram, and Facebook page and he has 40k followers on Instagram and 4k followers on Facebook.