Christine Tan Biography
Christine Tan is a Singaporean journalist working for CNBC Asia where she anchor Managing Asia, CNBC's feature show that talks to CEOs, billionaires, and entrepreneurs.
Christine Tan Education
Tan attended the University of Auckland, New Zealand where she received a Master of Arts with Honors in Sociology. She also holds a Bachelor of Arts degree in Sociology and English.
Christine Tan CNBC
Tan is the anchor for CNBC's longest-running feature program "Managing Asia." She is the Singapore-based anchor for CNBC's longest-running feature program "Managing Asia" interviewing prominent CEOs and leaders of top companies doing business in Asia. The show celebrated its 20th anniversary in 2017, with more than 900 episodes produced.
Tan has more than 25 years of experience in journalism, and more than 2 decades with CNBC. During her career, she has covered the business and financial market impact of major news events like the Asian Economic Crisis, the Dot Com Bubble Crash, 9-11 attacks in the US, the SARS Outbreak, the Global Financial Crisis, and the massive tech disruption, and the Covid19 Pandemic Crisis.
As the anchor of Managing Asia, she has interviewed leadership visionaries like Alibaba's Jack Ma, Lenovo founder Liu Chuanzhi, India's Tata Group's Ratan Tata, Burmese tycoon Serge Pun, Japanese billionaire Takao Yasuda behind Don Quijote, Hong Kong's Hang Lung property tycoon Ronnie Chan, leading Philippines family conglomerates like Ayala's Jamie Augusto Zobel de Ayala & well known JG Summit's founder John Gokongwei, elusive Malaysian tycoon Lim Kok Thay behind Genting Group, Starbucks' CEO Howard Schultz and legendary Bridgewater Associates founder Ray Dalio. She also had the opportunity to interview political figures like Singapore's Lee Kuan Yew and Prime Minister Lee Hsien Loong.
Under "Managing Asia", she has covered leadership topics surrounding Entrepreneurship, thriving Family Businesses, Asian Builders, Sustainable Business Practices, and navigating through the Covid19 Pandemic.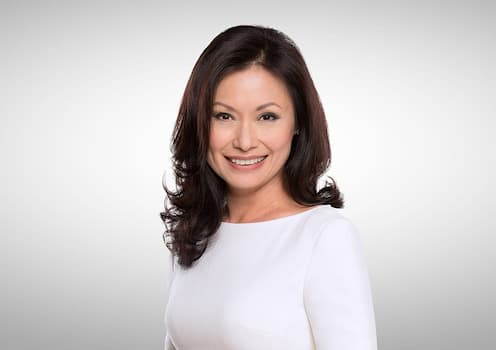 She received the Silver World Medal for Best Anchor at the 2009 New York Festivals Television Programming and Promotion Awards and also won the Best Current Affairs Presenter award at the 2008 Asian Television Awards.
Previously, Tan received the Best News Program award at the 2004 Asian Television Awards on behalf of The Asian Wall Street Journal. The same program also won a finalist award at the 2004 New York Festivals for Coverage of a Breaking News Story. She was a finalist for Best News Anchor in 2001 and 2002 at the New York Festivals Awards and also a Best Current Affairs Presenter finalist at the 1997 and 2006 Asian Television Awards.
In 2017, Tan won the inaugural 'Influential Woman of the Year' Award by research platform Influential Brands, for her exemplary achievements and contribution to the media industry.
Christine Tan Salary
Tan earns a salary of about $47,000-$120,000.
Christine Tan Net Worth
Tan has an estimated net worth of about $1 Million – $7 Million which she has earned through her career as an anchor.
Christine Tan Age
Tan is 53 years old as of 2023. She was born in 1970 in Singapore. It is however not known when she celebrates her birthday.
Christine Tan Height and Weight
Tan stands at an average height of 5 feet 6 inches tall.
Christine Tan Family
Tan was born in Singapore and grew up in Serangoon Gardens with her parents whose names she has not yet revealed. She has a younger brother whose name is also not disclosed. In June 2018, she posted a picture of her father wishing him a Happy Father's Day and thanking him for teaching her resilience and for loving her always.
Christine Tan Husband and Children
Tanhas kept her personal life private hence it is not known if she has a husband. However, it is known that she has one daughter who was born on January 17, 2010. On January 17, 2021, she posted a photo of her daughter with another mysterious man wishing her a happy birthday. "Happy 12th Birthday Darling! We love you to the moon and back,"
Christine Tan Social Media Platform
Tan is very active on her Twitter, Instagram, and Facebook page and she has over 5,000 followers on Twitter over 2,000 followers on Instagram, and 500  followers on Facebook.