Christina Valencia Biography
Christina Valencia is an American interior designer and co-founder of Colossus Mfg, who is best known for starring on 'Mash-Up Our Home' a new HGTV Series premiering on March 12. She will be starring alongside her husband Kele Dobrinski.
She attended Santa Clara University where she graduated with a BA in communication and media studies in 2005. After graduating, Christina began her career in San Francisco and New York.
Christina Valencia Age
Valencia likes to keep her personal life private hence she has not disclosed her age. However, she might be in her 30s.
Christina Valencia Height
Valencia stands at an average height of 5 feet 7 inches tall.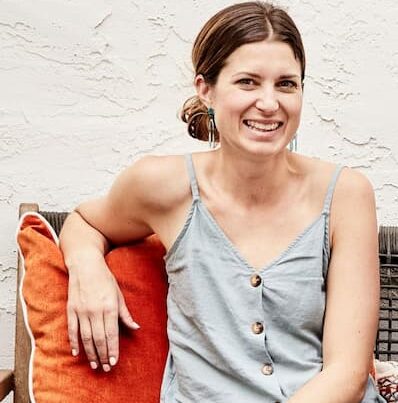 Christina Valencia Family
Valencia was born in the United States but likes to keep her personal life private hence she has neither disclosed the names of her parent nor those of her siblings.  However, this information will be updated when available.
Christina Valencia Husband
Valencia is married to Kele Dobrinski an American interior designer. The couple tied the knot on September 5, 2010, and are blessed with three sons. They co-own a Sacramento-based interior design firm Colossus Mfg and are also stars on the new HGTV Series 'Mash-Up Our Home.'
Christina Valencia Children
Valencia and Kele Dobrinski are blessed with three boys Jack (born June 17, 2013), Wyatt (born August 5, 2015), and Adler (born April 17, 2018) and the family lives in Sacramento's Land Park neighborhood. During their free time, they enjoy making their way down snowy mountains on skis and snowboards, hanging out in the pool, and hiking.
Christina Valencia Net Worth
Valencia has an estimated net worth of between $500k – $1 Million.
Christina Valencia Mash-Up Our Home / Christina Valencia HGTV
Christina and Kele Dobrinski will be hosting 'Mash-Up Our Home' a new HGTV Series premiering on March 12. The two know how to settle the score between couples struggling with drastically different design preferences to create their one perfect dream home.
In every episode, Christina and Kele Dobrinski will combine diverse styles to create an ideal "mash-up design" dream home that caters to the homeowners' unique tastes. The first episode will feature a couple torn between colorful style and neutral minimalism, renovating their tiny, outdated kitchen and unused garage. Christina and Kele will come up with a harmonious, blended design that gives the homeowners exactly what they want and helps them fall back in love with their home.
Christina Valencia Colossus Mfg
Valencia is the co-founder of Colossus Mfg, a design, marketing and development studio. She and her husband have more than two decades of experience building brands and sharing those stories with the world. Before Colossus Mfg., the couple spent the majority of their careers in advertising and PR, respectively – living in both San Francisco and New York – where they led global campaigns for some of the country's most innovative brands.
Christina and Kele use the Colossus as their north star, working to create a brand, design and partnerships that have a lasting impact. Colossus' list of clients is impressive, including Facebook, Apple, Google, Adidas, Spotify, Levi's, Instagram, and more.
Christina Valencia's Instagram
View this post on Instagram