Christiane Amanpour Biography
Christiane Amanpour is a British-Iranian eleven Emmy award-winning anchor and reporter who is currently working at CNN. She serves as the chief international anchor of CNN network's award-winning, flagship global affairs program "Amanpour." In addition, she is based in the network's London bureau.
Christiane Amanpour Career
She joined CNN's headquarters in Atlanta in 1983 as an entry-level assistant on the international assignment desk.  Amanpour rose through the organization becoming a reporter at the New York Bureau, and later, the network's leading international correspondent. In addition, in 1996, Newsweek stated that she had assisted in making CNN 'must-see TV for world leaders' after reporting from conflict hotspots in the Gulf and the Balkans.
She has documented the bloody violence which has marked Iraq's recent history from the 1991 Gulf War to the 2003 American-led invasion. Furthermore, she did report exclusively from the courtroom at the trial of Saddam Hussein in 2004.
Additionally, she also exposed the brutality of the Bosnian War during the siege of Sarajevo while she reported on the daily tragedy of life for civilians in the city. Furthermore, while he has been working at CNN, she has been able to secure a number of exclusive interviews with global power players. She was also the first international correspondent during the  September 11 attacks to interview Afghan President Hamid Karzai, Pakistani President Pervez Musharraf, and British Prime Minister Tony Blair.
Furthermore, she conducted an Emmy-winning interview during the height of the Arab Spring with Libya's former leader 'Colonel' Moammar Gadhafi. In addition, just before Egypt's President, Hosni Mubarak was deposed, she was the last journalist to interview him. Following  Brazilian President Dilma Rousseff's shocking defeat in the 2014 World Cup semi-final, she was the first journalist to interview her.
In addition, she was fortunate to have the opportunity to talk with Venezuelan President Nicolas Maduro about the widespread violent demonstrations in his country. Furthermore, she exclusively broke the news of a dossier of testimony and photographs in January 2014. The testimony and photographs alleged showed systematic torture of prisoners by government forces in Syria, welcoming a panel of war crimes experts who attested to the veracity of the shocking allegations.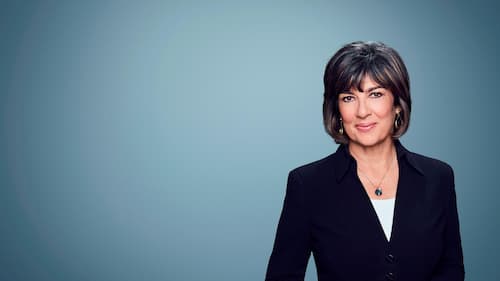 With the evidence, she was able to later confront Russian Prime Minister Dmitry Medvedev — challenging him to justify his government's support for the Assad regime. In addition, Amanpour has reported on the aftermath of numerous humanitarian crises. Such crises include; Hurricane Katrina, the 2011 Japanese tsunami, and the devastating 2010 earthquake in Haiti. 
In addition, she is also an active rights campaigner. She also serves as a board member of the Committee to Protect Journalists, the International Women's Media Foundation, and the Centre for Public Integrity. On a number of occasions, she has interviewed educational rights activist Malala Yousafzai for CNN.
Furthermore, she used an appearance on BBC television to raise awareness of the plight of the 200 Nigerian schoolgirls abducted by Boko Haram as she requested British Prime Minister David Cameron to join the #BringBackOurGirls campaign in May 2014.
Christiane Amanpour Education
Amanpour attended Holy Cross Convent which is an all-girls school in Chalfont St Peter, Buckinghamshire. When she was at the age of sixteen, she joined New Hall School, a Roman Catholic school in Chelmsford, Essex where she graduated proudly.
Later on, she joined the University of Rhode Island where she graduated summa cum laude with a Bachelor of Arts in Journalism. Furthermore, she has nine honorary degrees.
Awards and Achievements of Christiane Amanpour
Amanpour has received eleven News and Documentary Emmy Awards
She has also been awarded four Peabody Awards, two George Polk Awards, three DuPont-Columbia Awards, and the Courage in Journalism Award.
In addition, she is also a UNESCO Goodwill Ambassador for Freedom of the Press and the Safety of Journalists.
Christiane Amanpour working career
From 1996 to 2005, she worked at CBS serving as a reporter for 60 Minutes
Later she joined ABC News where she served as the anchor of This Week from 2010 to 2011.
In 2018 she began working for PBS as an anchor to date.
She joined CNN International from 2009 to 2010 when she left and in 2012 she rejoined the station. and works at CNN to date.
Christiane Amanpour Salary
Amanpour earns a salary of about $300,000-$520,000.
Christiane Amanpour Net Worth
Amanpour has an estimated net worth of about $10 Million – $20 Million which she has earned through her career as a chief international anchor.
Christiane Amanpour Age
Amanpour was born on January 12, 1958, in Ealing, Middlesex, England. She is 65 years old as of 2023, and she celebrates her birthday on ther 12th of January every year,
Christiane Amanpour Height and Weight
Amanpour stands at a height of 5 feet 7 inches tall. However, information about her weight will be updated when available.
Christiane Amanpour Family
Amanpour's father is known as Mahammad Amanpour while her mother is Patricia Amanpour. She has a sister who is known as Lizzy Amanpour
Christiane Amanpour Husband and Son
Amanpour was previously married to James Rubin who happens to be a former United States assistant secretary of state. They tied the knot in 1998 and while they were together they were blessed with a son who they named Darius John Rubin. However, the couple divorced in 2018.
Christiane Amanpour Ovarian Cancer/ Health
Amanpour was diagnosed with ovarian cancer in May 2021 and on June 15, 2021, was when she revealed the diagnosis to her viewers. She had four weeks of hiatus and has undergone major surgery to remove the cancer tissue. As of the moment, she is undergoing several months of chemotherapy for the very best possible long-term prognosis.
Christiane Amanpour Social Media Platform
Amanpour is very active on her Twitter, Instagram, and Facebook page and she has 3M followers on Twitter, 166k followers on Instagram, and 819k followers on Facebook.