Bret Baier Biography
Bret Baier is an American anchor and editor working for Fox News Channel as the chief political anchor and as the executive editor of Special Report with Bret Baier which airs on weeknights from 6 pm to 7 pm. Previously served as FNC's Chief White House Correspondent and Pentagon correspondent. In addition, Baier joined FND in 1997 as the first reporter in the Atlanta bureau and is currently based in Washington, DC.
Bret Baier Education
Baier was brought up as a Catholic thus he attended Marist School, which is a private Roman Catholic high school in Atlanta, Georgia where he graduated in 1988. He later joined the methodist DePauw University in Greencastle, Indiana, graduating in 1992 with a Bachelor of Arts degree in political science and English. In addition, while he was at DePauw, he became a member of the Xi Chapter of the Sigma Chi fraternity.
Bret Baier Career
Not long ago, he served as the moderator of; a one-hour policy debate between Sen. Lindsey Graham (R-SC) and Sen Bernie Sanders (I-VT) for The Senate Project, and a diverse new coalition between the Orrin G. Hatch Foundation, the Bipartisan Policy Center, and the Edward M. Kennedy Institute. He provided live breaking news coverage in early 2022, on Russia's invasion of Ukraine, interviewing Ukrainian Foreign Minister Dmytro Kuleba and Ukrainian President Volodymyr Zelensky. Bret also had the opportunity to speak with former Secretary of State Henry Kissinger.
While working at FNC, he has played an integral role in every major political event ever since he joined the station, He served as the co-anchor of a one-hour election special entitled, Democracy 2021: Virginia Showdown with The Story's Martha MacCallum. The program provided special live coverage of the New York City mayoral race and the Virginia and New Jersey gubernatorial races. In addition, Baier had previously co-anchored FNC's Democracy 2020 election coverage alongside MacCallum, hat earned the highest ratings for election night coverage in cable news history, having 14.1 million total viewers.
Together with MacCallum, they co-anchored the coverage of the 2020 presidential debates with the first 2020 presidential debate being the most-watched in cable news history with almost 18 million viewers. Furthermore, together with MacCallum, they also moderated a series of presidential election town halls with then-candidates; Sen. Amy Klobuchar, Sen. Bernie Sanders, former mayor Michael Bloomberg, Julian Castro, and Sen. Kirsten Gillibrand. Furthermore, their town hall with former Democratic presidential candidate Sen. Bernie Sanders in April 2019, was ranked as the highest-rated town hall featuring a 2020 presidential candidate. Almost 4 million viewers watched the duo's sit-down virtual special with President Donald Trump from the Lincoln Memorial in May 2020.
In addition, he conducted an interview with the 2020 Democratic presidential candidate,  Sen. Amy Klobuchar, who was the first Democrat to make an appearance on the network for the 2020 election cycle. According to Nielsen Media Research, Baie's coverage of the 2018 election marked the highest-rated midterm election coverage in cable news history with its total viewers, topping all of broadcast and cable news. Furthermore, he provided live coverage of the United States summit with North Korea in 2019, anchoring his nightly newscast Special Report from Hanoi, Vietnam.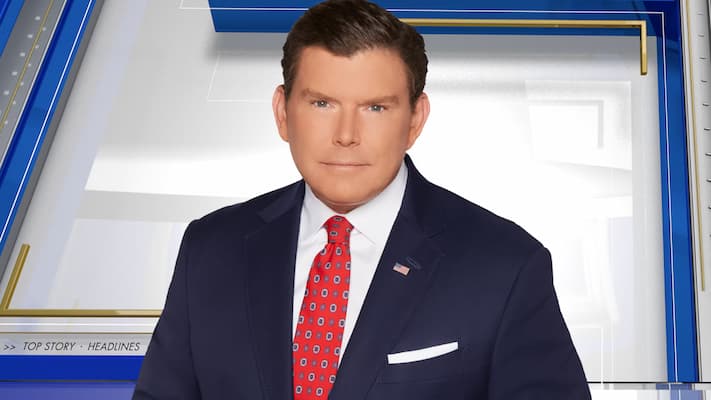 In the year 2018, Bret contributed to FNC's live coverage of the U.S. summit with North Korea that was held in Singapore and he later had a sit down with President Donald Trump on Air Force One for a wide-ranging interview. He discuss the death of journalist Jamal Khashoggi with Saudi Arabia's Foreign Minister Adel al-Jubeir in an exclusive interview in October 2018. In the same year, he also had an exclusive interview with the President of Nicaragua Daniel Ortega on the country's political and civil unrest.
Furthermore, Bret had an interview with former Federal Bureau of Investigation (FBI) director James Comey in April 2018, which led to the network's live coverage of his testimony before the Senate Intelligence Committee. He did a live anchor covering President Trump's first foreign trip live from Saudi Arabia in May 2017. Later in April 2017, he has an exclusive interview with Jordan's King Abdullah II discussing the war on terrorism.
According to Nielsen, Baier's extensive coverage of President Donald J. Trump's inauguration alongside MacCallum delivered the highest-rated inauguration coverage in network history. During the Tibetan leaders' visit with then-President Obama in Washington in June 2016, he had an exclusive interview with the Dalai Lama. Baier also served as the host of FNC's only Democratic town hall with former Secretary of State Hillary Clinton and Sen. Bernie Sanders in March 2016, which was held in Detroit, a night before the Michigan primary.
In addition, he co-moderated the first GOP presidential debate of the 2016 election cycle in August 2015, and according to Nielsen, the debate delivered 24 million total viewers and 7.9 million in the key 25-54 demo. He served as the co-anchor of FNC's America's Election Headquarters during the 2012 and 2016 political seasons.
In addition, Bret provided coverage of the 2012 campaign cycle, anchored presidential and vice presidential debates, as well as the Democratic and Republican conventions. He also moderated FNC's five Republican presidential primary debates. Over the years has had interviews with then-President George W. Bush, then-President Barack Obama, and then-Vice President Dick Cheney. Furthermore, he had an interview with Hillary Clinton to discuss her book, Hard Choices, and later in 2016, they discussed the presidential election.
Bret has anchored over two dozen political specials on FNC, reported from Afghanistan 13 times and Iraq 12 times, reported from 74 countries, and traveled the world with several administrations and military officials. Additionally, he served as the host of 13 Hours At Benghazi, which is a documentary featuring exclusive interviews with the American security operatives who fought on the ground during the attacks in Benghazi. TIME Magazine's Joe Klein acknowledged Special Report with Bret Baier in 2012, as the only "straight newscast" in cable news at 6 PM/ET. For Bret's Excellence in Broadcast Journalism, he was awarded the 2017 Sol Taishoff Award.
In 2006, Baier was named as the chief White House correspondent, and in his role, he covered the second term of the George W. Bush administration. Prior to that, he was the national security correspondent covering national and military affairs as well as defense, military policy, and the intelligence community from the Pentagon. From 1998 to 2001, he served as FNC's Southeastern correspondent. In his role, he covered a wide range of stories such as; the 1999 Elian Gonzalez story and the 2001 Timothy McVeigh execution. Furthermore, he has covered over a dozen hurricanes and provided a series of reports from Cuba. Before he joined FNC, he worked for; WREX-TV (NBC 13) in Rockford Illinois, WRAL-TV (CBS 5) in Raleigh, North Carolina, and WJWJ-TV (PBS 2) in Beaufort, South Carolina.
Bret Baier Books
Baier has authored four New York Times Best-Sellers including; Three Days in Moscow: Ronald Reagan and the Fall of the Soviet Empire, Special Heart: A Journey of Faith, Hope, Courage and Love, Three Days at the Brink: FDR's Daring Gamble to Win World War II, and Three Days in January. In addition, his most recent book is entitled, To Rescue the Republic: Ulysses S. Grant, the Fragile Union, and the Crisis of 1876, which he released in 2021.
Bret Baier Salary
Baier earns a salary of about $47,000-$120,000.
Bret Baier Net Worth
Baier has an estimated net worth of about $1 Million – $7 Million which he has earned through his career as an anchor.
Bret Baier Age
Baier was born on August 4, 1970, in Rumson, New Jersey, United States. He is 52 years old as of 2022, and he celebrates his birthday on the 4th of August every year.
Bret Baier Height and Weight
Baier stands at a height of 5 feet 11 inches tall. However, information about his weight will be updated when available.
Bret Baier Family
Baier was born into a family of mixed German and Irish origins with his parents being Bill Baier and Pat Baier. He has a brother known as Tim Baier.
Bret Baier Wife
Baier is married to Amy Baier with whom he tied the knot in 2004. Together they have been blessed with two children.
Bret Baier Children
Baier and his wife, Amy were blessed with two children; Daniel Baier and Paul Francis Baier. Paul was born with cardiac problems and before his open-heart surgery in 2008, President George W. Bush invited Baier, his wife, and son to the Oval Office for a visit and had the White House physician update him on Paul's progress.
Bret Baier Social Media Platform
Baier is very active on his/her Twitter, Instagram, and Facebook pages. He/She has 1.4M followers on Twitter 491k followers on Instagram and 647k followers on Facebook.
Twitter