Becky Anderson Biography
Becky Anderson is a British Emmy award-winning anchor, Managing Editor,  and host who is currently working at CNN.  She serves as the Managing Editor of CNN Abu Dhabi, host of @CNN's Emmy award-winning "Connect the World," the weekday anchor of the 10 am New York, 15:00 London, 16:00 Berlin, and 18:00 UAE. In addition, she is among the highest-profile International anchors for CNN.
Becky Anderson Career
She has a distinctively regional perspective on some of the latest important news stories inclusive of the deepening humanitarian crisis stemming from years of political instability in Syria and Iraq, the regional rivalries between Iran and Saudi Arabia, and the emerging politico-economic trends in the Gulf. In addition, she is a skilled interviewer, and over the years, she has interviewed decision-makers, thought leaders, and many of the world's leading politicians.
Furthermore, she has had one-on-one interviews with top world leaders including; Israeli Prime Minister Benjamin Netanyahu, Qatari Foreign Minister Mohammed Al Thani, Emirati Foreign Minister Sheikh Abdullah bin Zayed, Saudi Foreign Minister Adel Jubeir, Turkish President Recep Tayyip Erdogan, and leading humanitarian leaders such as UN Secretary-General Antonio Guterres.
Additionally, she is also familiar with celebrities quizzing the world's A-listers, including; Brad Pitt, Javier Bardem, Tom Hanks, Lady Gaga, George Clooney, Beyoncé, Andrew Lloyd-Weber, Juliette Binoche, Oprah Winfrey, Will. i.Am, Akon, and Jennifer Lopez. Furthermore, she has broadcasted special shows from Tehran to Jerusalem, from Istanbul to Beirut, bringing a range of interviews, reports, and packages to CNN International viewers around the globe.
In addition, she was on the anti-austerity riots in Greece, during the Arab Spring uprisings. She also reported from Tunisia and in Rome on the abdication of Pope Benedict XVI and the installation of his successor Pope Francis. In 2012, she served as the official CNN Olympic Games Correspondent. Prior to also broadcasting live on the birth of Prince George from London's Buckingham Palace. Additionally, she played a lead role in CNN's extensive coverage of both the network's coverage of the war in Iraq and the 7/7 attacks in London.
She is also focused on covering problems affecting women and young people around the world. On one occasion she did interview senior Saudi officials on the country's women's rights record. She discussed with a panel of experts if the Arab Spring had brought about new opportunities for women and young people. Furthermore, she hosted a live chat with NASA astronaut Karen Nyberg in 2013 as she asked her questions crowd-sourced from social media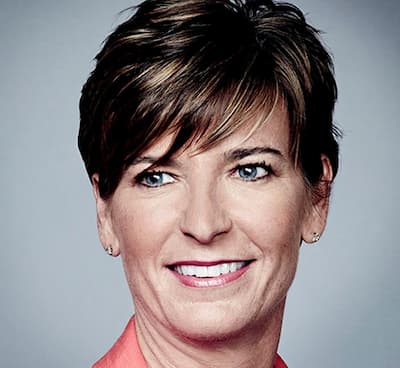 Additionally, she has extensive business journalism experience including posts with Bloomberg, CNBC Europe, and UK's ITN. Her career in journalism started as a print reporter with a number of business publications in Arizona.  Furthermore, she attended Arizona State University where she graduated in 1992 with a Master of Mass Communication from its Walter Cronkite School of Journalism. Prior to being inducted into their Hall of Fame in 2012. She also did attend Sussex University in the United Kingdom where she earned a BA (Hons) in Economics.
Becky Anderson Salary
Anderson earns a salary of about $300,000-$500,000.
Becky Anderson Net Worth
Anderson has an estimated net worth of about $10 Million – $20 Million which she has earned through her career as an anchor.
Becky Anderson Age
Anderson is 54 years old as of 2021. She was born on November 15, 1967, in England, United Kingdom.
Becky Anderson Height and Weight
Anderson stands at a height of 5 feet 1 inch tall.
Becky Anderson Family
Anderson likes to keep her personal life private hence she has neither disclosed the names of her parent nor those of her siblings. However, this information will be updated when available.
Becky Anderson Husband and Children
Anderson has not disclosed her relationship status as she is very private with her personal life. However, this information will be updated when available.
Becky Anderson Social Media Platform
Anderson is very active on her Twitter, Instagram, and Facebook page. She has 92k followers on Twitter, 27k followers on Instagram, and 478K followers on Facebook.
Twitter