Art Rascon Biography
Art Rascon is an American Emmy award-winning anchor and reporter who is currently working at KTRK-TV. He served as the anchor of the 11 am 5 pm, and 6 pm newscast. In addition, he joined the ABC13 Houston team in September 1998.
Art Rascon Career
El Paso, Texas is his native home. While serving as a journalist, he has covered major events such as wars and conflicts, in Central America, Iraq, Central America, the Balkans, and the Caribbean. In addition, he has also traveled with scores of juvenile immigrants on their deadly trek to the U.S. border.
Prior to also reporting widely on United States Presidential elections, a host of hurricanes have hit the Eastern seaboard and the Gulf coast, including Ike and Katrina, the Virginia Tech campus shooting, and terrorist attacks both at home and abroad.
Furthermore, he has also covered other natural disasters throughout the world including the tsunami in Indonesia and was one of the first journalists to report out of Haiti after the earthquake. Previously, he worked at CBS News where he served as a correspondent reporting on; Cuba's downing of U.S. planes, Peru's hostage standoff, Mexico's guerrilla wars, Haiti's civil unrest, and other airline disasters.
He also reported on a number of school shootings, hurricanes throughout the Caribbean and the United States, the Oklahoma City bombing, conflicts in Central America, and a number of other international stories. In addition, he joined the KABC-TV in Los Angeles team in 1989 where he covered notable events like the Rodney King beating trial, the O.J. Simpson case, the Branch Davidian stand-off as well as earthquakes, fires, and floods.
In addition, he has also worked in Salt Lake City, Abilene, El Paso, and San Antonio where he served as an anchor, reporter, and producer. Over the years, he has reported from over five continents, 70 countries, and nearly every state in the Union. Furthermore, he is a former national advisory board member of RTNDA (Radio-Television News Directors Association).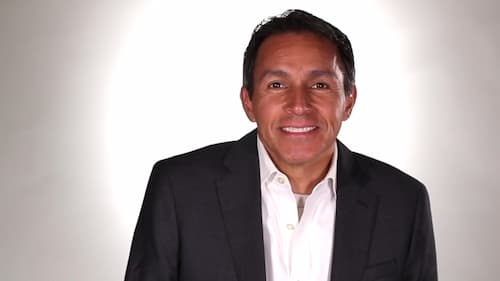 He is also a former executive board member of Interfaith Of The Woodlands and former Vice President of The National Association of Hispanic Journalists. In addition, he served as President of the Houston Association of Hispanic Media Professionals for two terms. As of the moment, he is a board member of YMCA-International Services based in Houston. Additionally, he is a well-known motivational speaker and active participant in a number of charity groups.
Awards and Achievements
He has been nominated for 27 Emmys and has won 20 Emmy awards.

Two Edward R. Murrow awards were awarded to him
He received three National Association of Hispanic Journalists awards.
The International Rotary Club award was also given to him.
He was honored with two Headliner Awards and the RTNDA Award.
In addition, he has also been awarded 15 Associated Press Reporting awards.
Press Clubs in Los Angeles, Miami, and Houston have awarded him with more than a dozen outstanding reporting awards.
He was also named one of the 100 most influential Hispanics in America by The National Hispanic Business Magazine.
Furthermore, he was named Houston Father Of The Year in 2008 prior to being honored with the prestigious Paul Harris Fellow award from Rotary International in 2010.
Art Rascon Salary
Rascon earns a salary of about $47,000-$120,000.
Art Rascon Net Worth
Rascon has an estimated net worth of about $1 Million – $7 Million which he has earned through his career as an anchor and reporter.
Art Rascon Age
Rascon was born on December 4, 1962, in El Paso, Texas, and brought up in Denver, Colorado. He is 60 years old as of 2022, and he celebrates his birthday on the 4th of December every year.
Art Rascon Height and Weight
Rascon stands at a height of 5 feet 7 inches tall and weighs 141 lbs (64 kg).
Art Rascon Family
Rascon was born into a family of 5 children. However, he has neither disclosed the names of his parents nor those of his siblings as he likes to keep his personal life private.
Art Rascon Wife and Children
Rascon is married to Patti Rasco who he tied the knot in August 2008. Together the couple has been blessed with seven children namely; Olivia Rascon, Malachi Rascon, Jacob Rascon, Elijah Rascon, and Elena Gabrielle Rascon. Two of his children are a journalist and among the two Jacob Rascon is a reporter for KPRV-TV in Houston.
Art Rascon Social Media Platform
Rascon is very active on his Twitter, Instagram, and Facebook pages and he has 9k followers on Twitter, 2k followers on Instagram, and 26k followers on Facebook.