Amrit Kapai Biography
Amrit Kapai is an Indian-born American lawyer and television personality who is best known for being a cast of Family Karma on Bravo TV. He will be part of the 3rd season of Family Karma which is set to premiere on November 6, 2022, on Bravo TV at 9:00 pm.
Amrit Kapai Education
In 2004, he joined Emory University where he graduated in 2008, with a Bachelor of Arts in History and Economics. He also studied at the University of Oxford where he studied British contemporary politics and history for a year. In addition, he also studied at Washington University in St. Louis School of Law from 2008 to 2021, when he graduated cum laude with a Juris Doctor degree in Law.
Amrit Kapai Career
After Amrit graduated from Washington University, he worked in Chicago for a number of years where he served as a lawyer. In 2009, Kapai was a judicial intern at the United States Bankruptcy Court Southern District of Florida for 4 months. He also interned at the United States Bankruptcy Court Eastern District of Missouri for 4 months.
In September 2011, Amrit relocated to Chicago and while he was there, he served as an associate for Goldstein & McClintock LLLP. In addition, after working for almost 2 years at Goldstein & McClintock LLLP, Kapai then worked at Mayer Brown where he was a Litigation Attorney for almost three years. In addition, In September 2017, he began serving as a senior Associate for Goldstein & McClintock LLLP in Chicago, Illinois and Kapai has been working at the company to date.
Amrit Kapai Family Karma
Kapai has been part of the Family Karma reality show since its first season. The show follows the lives of seven young Indian-American friends who are originally from India and are now taking America by storm. In the 1st season of the show, Amrit is involved in a dispute with Vishal and Bali during the Diwali festival at the Fire Tower celebration and their friendship is fractured. He also welcomes his long-term boyfriend Nicholas to town. In addition, he also throws a launch party for his new firm, however, this goes haywire at the party after Monica, Anisha, and Bali make a scene. Furthermore, during the last episode, things become tense as Kapai's mother introduces his boyfriend as only a friend at Vishal and Richa's engagement party.
During the show's second season, as Amrit was looking forward to proposing to his boyfriend Nicholas, his family and friends try to keep the secret under wraps. He also visited his grandmother who he called Nani together with his boyfriend who his grandmother thought was his roommate. Kapai opened up to his Nani that he was gay during the Diwali festival. In addition, during the 3rd season of the show, Amrit and his fiance Nicholas prepare to tie the knot. Their wedding will be the first gay wedding in their Indian community, however, they face the challenges of planning an interracial same-sex- marriage. They seek of help and comfort from their friends who help them make their wedding memorable. Professionally, Amrit is making significant strides in his career as an attorney.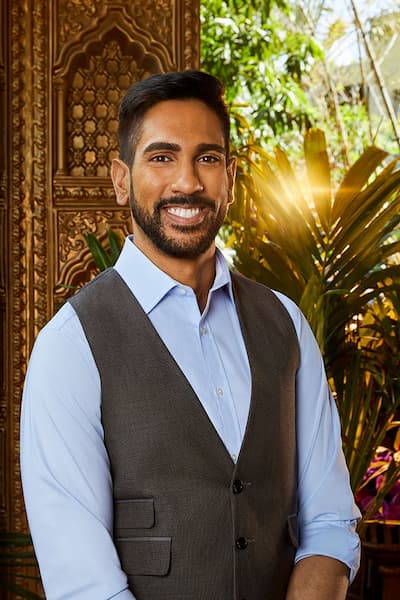 Amrit Kapai Salary
Kapai earns an annual salary of about $ 200, 000.
Amrit Kapai Net Worth
Kapai has a net worth of $ 1 Million which he has earned through his career as a professional lawyer and reality television personality.
Amrit Kapai Age
Kapai likes to keep his personal life private hence he has not disclosed his age. However, this information will be updated when available.
Amrit Kapai Height and Weight
Kapai stands at a height of 5 feet 9 inches tall. However, information about his weight will be updated when available.
Amrit Kapai Family
Kapai's parents are Suresh and Lavina while his brother is known as Rohit Kapai. His grandmother, Koshlya was the matriarch of his family passed on.
Amrit Kapai Husband
Kapai is openly gay and engaged to Nicholas Kouchoukos, who is a fifth-grade double language teacher with Chicago Public Schools. During the 3rd season of Family Karma Kapai and Nicholas tie the knot in an Indian setup wedding held at The Hotel at Avalon in Alpharetta, Georgia over the weekend. Furthermore, they are parents to an adorable golden pup Theo K.