Allison Rosati Biography
Allison Rosati is an American anchor who works at NBC 5 as a weekday evening anchor at 5, 6 and 10 p.m. She joined the WMAQ-TV team in August 1990, after previously working for WGRZ-TV.
Allison Rosati Education
Dover, Delaware is where Rosati was born, and she was later brought up in Pine City, Minnesota. While Allison was a teenager, she worked at McDonald's as a drive-thru shift leader. Allison was crowned as Minnesota's Junior Miss in 1980, and later in 1981, she took part in the America's Junior Miss pageant as Minnesota's representative and she received a 'Spirit of Junior Miss' award alongside Idaho Junior Miss Kelly Jo Kreisher. In addition, she attended Gustavus Adolphus College where she studied speech and communications and graduated cum laude in 1985. While she was at Gustavus Adolphus College, she was part of the school's choral group The Lucia Singers.
Allison Rosati Career
Rosati began her journalism career at KTTC-TV in Rochester, Minnesota in 1985, where she served as a general assignment reporter a position she held for a year. Later on, she was promoted to being the co-anchor of the 6 p.m. and 10 p.m. newscasts. Later on, Allison relocated to Buffalo, New York where she worked for WGRZ-TV as an anchor and reporter for the 6 & 11 p.m. newscasts. In addition, she also served as the local co-host of The Jerry Lewis MDA Labor Day Telethon alongside Barry Lillis in 1989.
When Rosati joined the NBC 5 news team, she served as an anchor and reporter and worked on the First Thing in the Morning newscast. After working on the morning newscast for 5 years, Allison joined the evening newscast and she got promoted to being the co-anchor of NBC 5's 10 p.m. newscast in May 1997. Furthermore, from 1991 to 1992, Rosati served as the co-host of Chicago Live along with Warner Saunders. (NBC 5). In 1998, Rosati served as the co-anchor of the NBC 5 Chicago Daytime alongside Nesita Kwan and Byron Miranda. However, the show was canceled in 1999 due to low ratings
Later in April 1999, she got promoted to serving as the 6 pm anchor after Joan Esposito left the station. In addition to that, she also hosted the weekly segment Wednesday's Child for 6 years. During her 30th anniversary year with WMAQ, in August 2020, it was announced that she would be joined by Stefan Holt as co-host of the 10 pm newscast. On the 5 pm and 6 pm newscasts, she works alongside Stafford, and she also began hosting the web-only series "Happy to Report" from August 2021.
Over the years, Allison has received many local and national awards for her stories, specials, and series that have impacted the community in one way or another. She did a series, "Wednesday's Child" that led to the adoption of many children in need of forever families for which she won an Emmy award. In addition, Rosati also did a special on the "Smart Choices, Safe Kids" for which she was awarded a national Gracie Award by The American Women in Radio and Television. The program was aimed at educating parents and children on child predators and how to recognize the lures they use.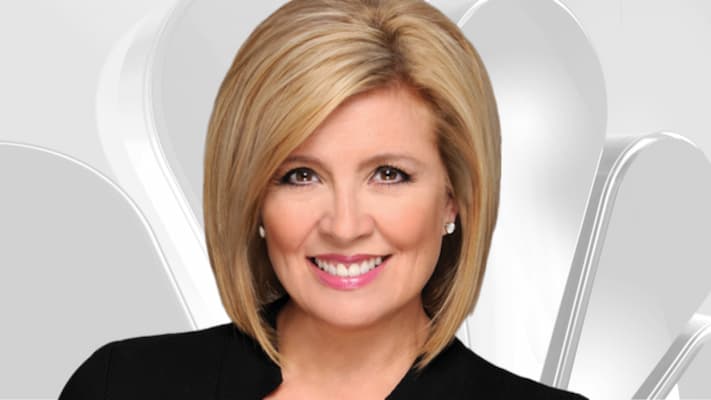 Furthermore, the Joint Civic Committee of Italian Americans gave her the prestigious Dante Award, which is an annual award presented to journalists who are "not a timid friend to truth." Whenever she finds time, she enjoys volunteering her time to many Chicago-area organizations. She is very passionate about giving back to the community and she has a special affection for charities that are aimed at benefiting children who are in need.
In addition, Rosati takes part in organizations such as; the Infant Welfare Society, the Ronald McDonald House, the St. Jude Children's Research Hospital, the Greater Chicago Food Depository, Amate House, the March of Dimes, and the Children's Home + Aid. Allison has also been a member of the board of directors for the Big Brothers Big Sisters of America. She was also an honorary board member of Gilda's Club Chicago organization.
Allison Rosati Salary
Rosati earns a salary of about $47,000-$120,000.
Allison Rosati Net Worth
Rosati has an estimated net worth of about $1 Million – $7 Million which she has earned through her career as an anchor.
Allison Rosati Age
Rosati was born on February 12, 1963, in Dover, Delaware, United States. She is 63 years old as of 2023, and she celebrates her birthday on the 12th of February every year.
Allison Rosati Height and Weight
Rosati stands at a height of 5 feet 7 inches tall, and she weighs 165 lb ( 75 kg).
Allison Rosati Family
Rosati is of Finnish (paternal) and Italian (maternal) descent. Her father is Robert Rosati, while her mother is known as Sharon Nowling.
Allison Rosati Husband and Children
Rosati is divorced and was married to Dr. Lee Dennis who is a radiologist. They had a traditional Roman Catholic wedding ceremony held on March 20, 1993, at the Holy Name Cathedral. While they were together they were blessed with 4 children including 2 sons; Nicholas Lee Dennis, and Stephen Dennis, and 2 daughters; Katherine Mary Dennis, and Kristen Allison Dennis. However, in 2017, Allison and Lee separated 2017 after having been married for 24 years, for reasons not known to the public. She also has a dog known as Apollo who is part of her family.
Allison Rosati illness
Rosati underwent surgery in September 2020, as a result of an injury she had on her leg. However, as a result of the COVID-19 pandemic in Illinois, she had to stay at home for recovery.
Allison Rosati Social Media Platform
Rosati is very active on her Twitter, and Facebook pages. She has 6.3k followers on Twitter and 27k followers on Facebook.
Twitter