Allen Martin Biography
Allen Martin is an American multiple Emmy award-winning anchor and reporter who is currently working at KPIX-TV. He serves as the co-anchor of the weeknight 6 p.m newscast.
Allen Martin Career
While he was in high school, he would spend his time at a seminary training to be a priest but as of the moment, he is serving people in a different way. Additionally, while he has been serving as a chor, he has uncovered a loophole in California's assault rifle ban and revealed poachers butchering Northern California's majestic redwoods for profit.
He attended Loyola Marymount University which is located in Los Angeles and while he was a junior at the University that was when his broadcasting career started. Additionally, he served as a producer of a radio talk show for KLOS. During his senior year, he worked at Sacramento where he served as a disc jockey he would fly on the weekends to work and he would be back for school during the week.
He was able to secure a job in Sacramento, Los Angeles, and San Francisco where he worked in radio stations after he had graduated. Later on, he got a job opportunity at a news talk radio station in Atlanta where he had relocated in 1983. Furthermore, before he worked at CNN's Headline News where he served as a writer, he had previously worked at CNN's Radio network.
Furthermore, he was offered his first on-air TV job in Fort Smith, Arkansas in 1986. He served as an assistant news director and main anchor for a period of five years before relocating to his native home in California. In California, he worked at the Salinas NBC affiliate where he served as a principal anchor and also a co-anchoring alongside popular Dina Ruiz, who was married to Clint Eastwood.
In addition, while he resided in Oklahoma City, he served as the main anchor at the station before the Oklahoma City bombing. In 1998, he relocated back to the Monterey Peninsula and California where he had secured a job at the CBS/FOX affiliate stations to serve as the anchor and the assistant news director.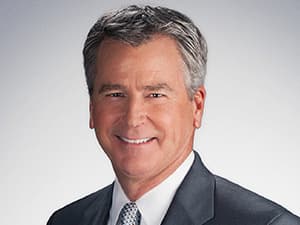 After working for a period of six years at the CBS/FOX affiliate stations, he moved to the Bay Area and KPIX 5. He began as a South Bay reporter and subsequently anchored a number of newscasts. Furthermore, aside from anchoring, he loves reporting, and when there was an invitation to the White House to interview President Obama, he was among the seven local reporters invited.
He is also a part of the Jefferson Awards which is a national program that honors public service across America. Furthermore, he has also taught "Media and Crisis Communication" for the Department of Homeland Security. Prior to him being a member of the Boyhood Shadows Project board of directors which is a non-profit that helps male victims of childhood sexual abuse.
In his career as an anchor and reporter, he has been awarded many Emmy Awards, honors from the Associated Press Television Radio Association as well as the Oklahoma and Arkansas Association of Broadcasters. In addition, during his leisure time, he enjoys spending time with his family, cycling, remodeling projects, and fly fishing.
Allen Martin Age
Martin likes to keep his personal life private hence he has not disclosed her age. However, this information will be updated when available.
Allen Martin Height and Weight
Martin stands at a height of 5 feet 8 inches tall. However, information about his weight will be updated when available.
Allen Martin Family
Martin likes to keep his personal life private hence he has neither disclosed the names of his parent nor those of his siblings. However, this information will be updated when available.
Allen Martin Wife and Children
Martin has not disclosed his relationship status as he is very private with his personal life. However, this information will be updated when available.
Allen Martin Net Worth
Martin has an estimated net worth of about $1 Million – $7 Million which he has earned through his career as an anchor and reporter.
Allen Martin Salary
Martin earns a salary of about $47,000-$120,000.
Allen Martin Social Media Platform
Martin is very active on his Twitter and Facebook pages and he has 1k followers on Twitter and 575 followers on Facebook.